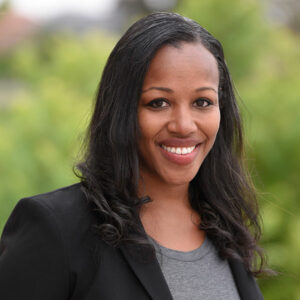 Dr. Miya Williams Fayne will join the School of Journalism and Mass Communication in Fall 2023 as an assistant professor. Her research focuses on how entertainment content operates in the digital Black public sphere. We asked her about her research and what brought her to Madison and the J-School.
Hometown
I grew up in the San Francisco Bay Area. I currently live in Southern California but I still have family in the Bay Area, so I go back to visit often.
Educational background
I received my bachelor's degree in print journalism from the University of Southern California, where I also double minored in sociology and communications. My master's degree is in publishing and writing from Emerson College and my doctorate is in media, technology and society from Northwestern University.
How did you get into your field of research?
After finishing my master's degree, I worked at JET magazine, which is a Black press publication that was founded in 1951. I was able to contribute to the magazine's redesign and eventually its last issue. While there, I noticed that longtime readers were contacting us with questions regarding the increased amount of entertainment content in the publication. I also had friends (other millennials) who made comments about their grandparents reading the publication, signaling that they did not read it themselves. As such, I thought there was a disconnect between how we as the editorial staff of the publication viewed JET's content and target audience in comparison to our readers' perspective. I ultimately wanted to pursue research in this area to bring these two groups into conversation with each other. I didn't feel like my questions regarding the larger Black press' production and consumption practices were being answered in industry and I noticed there wasn't much academic research on the Black press in the 21st century. There is scholarship on the mainstream press's adaptation to digital and many books and articles on the historical Black press, so my research works to fill the gap.
What attracted you to UW-Madison and the SJMC?
I am truly inspired by the prolific research that is being produced at UW-Madison. Books and journal articles written by SJMC faculty are significant contributions to the communications and journalism studies fields. I love all of the collaboration that happens with faculty and students both within and outside of the many research centers and groups at SJMC. I am excited for the opportunity to work with such amazing colleagues and student researchers.
What was your first visit to campus like?
I visited in late November so it was certainly colder than California. I loved the easy walk from downtown to campus via the State Street Mall and I really enjoyed seeing the picturesque lakes. I had dinners with faculty and students at some great restaurants and am looking forward to trying more of the amazing food that Madison has to offer.
What's one thing you hope students who take a class with you will come away with?
After taking one of my classes, I hope students will understand the importance of representation and having equitable depictions of people of color in news media. I want them to have strong writing skills and be able to apply classroom knowledge in their professional careers. I endeavor to further enhance the education of non-underrepresented students by teaching inclusive classes that expand their understanding of diversity and social justice in journalism. I also want to encourage students from underrepresented backgrounds to achieve in and outside of the classroom, whether through direct interactions—such as one-on-one meetings—or simply by being present.
How do you feel your work relates to the Wisconsin Idea?
I believe that incorporating the Black press into scholarship on journalism in the new media age ultimately expands students' conceptualizations of today's news landscape. My research helps students examine the differences between alternative media and mainstream news' coverage of various issues. I intentionally center the Black press and encourage students to view these outlets as exemplars for social justice reporting. My hope is that after engaging with my work, students will think more critically about industry norms. I believe, this deeper and more comprehensive knowledge of the field of journalism will help make them more informed researchers, writers, readers and citizens.
What's something interesting about your area of expertise you can share that will make us sound smarter at parties?
One of my journal articles introduces the concept of soft advocacy to journalism studies. I argue that perceptions of advocacy, which have previously been associated with hard news content, are broadening to accommodate the entertainment content on Black news websites. While some editors and consumers believe the Black press should contain hard advocacy content, such as political activism coverage, others perceive entertainment in the Black press, which provides positive coverage of African Americans and additional representation of Black life, as soft advocacy. I believe that expanding advocacy conceptions provides further nuance and insight into how the Black press and other news outlets function in the age of digital media.
What do you enjoy doing when you are not working?
When I'm not working, I try to practice self-care, whether that is doing a meditation, reading a book, getting a massage or catching up with friends and family. I think work-life balance is incredibly important and I am very intentional about making time for the things that bring me joy.