By Kara Rheingans
Bucky Badger. Game day tailgates. Jump Around. Varsity. These time-honored traditions are nearly synonymous with UW-Madison. With 23 Big Ten varsity teams, sports and the traditions that surround them sit at the heart of campus culture. It's no surprise then that many students hope to pursue a career in the sports industry after graduation. Those students are exactly who the School of Journalism and Mass Communication is hoping to reach with the Sports Communication Certificate.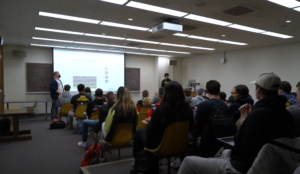 Created in Fall 2019, the 12-credit certificate provides students with the practical skills and theoretical knowledge of the sports industry to prepare them for a wide variety of professions, including sports journalism, broadcasting, sports marketing and public relations. The goal of the certificate program has been to expose students to the sports industry through a communications lens.
"Communications sits at the heart of the business of sports," said Matt Hermann, SJMC teaching faculty and Sports Communication Certificate adviser. "Ultimately, sports have such a special role in society in terms of being very public businesses that run on public events, as well as presenting themselves as being good corporate citizens. There's basically nothing you can do in sports that doesn't involve messaging."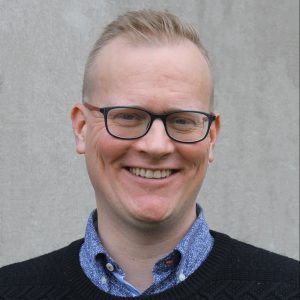 Over the past four years, the certificate has grown rapidly with over 300 students currently enrolled in the program. Hermann credits this growth to both a passion for sports among students and the innovative nature of the industry.
"There is a seemingly bottomless enthusiasm for sports at UW so there's a real hunger for academic programs related to sports," Hermann said. "Additionally, sports have been an innovator in streaming, social media and tech spaces, so I think that students see the sports industry as a vibrant place where they can see a future."
One of the key benefits of the certificate program is the opportunity to learn from industry professionals and UW alumni. Arvind Gopalratnam (BA'04), vice president of corporate social responsibility for the Milwaukee Bucks and executive director of the Milwaukee Bucks Foundation, and Justin Doherty (MA'03), senior associate athletic director for external communications at UW Athletics, have both returned to the J-School to teach the introductory course for the certificate. The class provides an overview of sports reporting, broadcasting, marketing and public relations. Both Gopalratnam and Doherty hope to instill in their students the vast amount of career opportunities available to them within the world of sports as well as the reality of what those careers look like.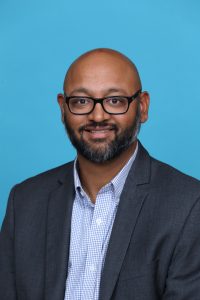 "What I love [about the certificate] is that it provides students with a breadth of different learning opportunities to understand what these jobs really are in sports. Not just what they sound like or what [students] think they might be, but truthfully, how they are strategizing and executing things in today's modern world," Gopalratnam said. "The ability to bring in professionals to teach these classes is an added benefit and legitimizes the department's commitment to creating a program that matches student interest in this space."
Exposure to both the reporting and strategic communication sides of sports is something that alum Jared Schwartz (BA'21) appreciated. After graduation, Schwartz worked as a media and PR intern for the New York Yankees before landing a job as a sports reporter for the New York Post and has found that his education on both sides of the business has helped him excel.
"Having that communication background helps in reporting because I know what the PR mindset is and what their goals are when they're presenting information, so I can cut through that and get to the point which is really helpful," Schwartz said.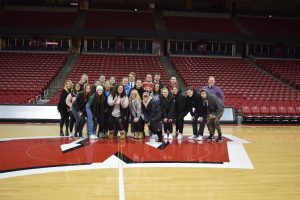 Alum Abby Moeckler (BA'21) agreed that the breadth of classes has enhanced her resume and made her a stronger candidate on the job market.
"The thing about sports is you have to get your foot in the door somehow and once you do, it's a lot easier to move on," Moeckler said. "I have to thank the certificate for giving me that opportunity."
Since its inception, the certificate has graduated three classes of students and Hermann hopes to see even more complete the certificate and launch their careers in the sports industry. "I think that this program has the potential to grow at least twice as large as it is," Hermann said. "I just want to continue to grow and serve as many students as we can because I think we have a great program."