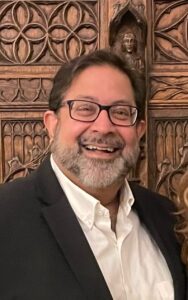 Dhavan Shah, Maier-Bascom Professor in the School of Journalism and Mass Communication has been named the Jack M. McLeod Professor of Communication Research through the Wisconsin Alumni Research Foundation (WARF) Named Professorship award.
The WARF named professorship recognizes the distinguished research contributions of UW-Madison faculty. The award honors faculty members who have made major contributions to the advancement of knowledge, primarily through their research endeavors, but also through their teaching and service activities. Shah is the second SJMC faculty member to be awarded this professorship after the late Steven Chaffee, emeritus Janet M. Peck Professor of International Communication and Director of SJMC from 1980-81, won the award in 1979.
"Everyone in the School is so proud to see Dhavan earn this recognition, among the highest honors UW-Madison bestows," said Kathleen Bartzen Culver, incoming SJMC director and the James E. Burgess Chair in Journalism Ethics. "His scholarship has advanced our understanding of communication in critical ways, and his mentorship has ignited the next generation of scholars to carry that work forward."
Shah joined the SJMC faculty in 1998 and earned his Ph.D. in Mass Communication from the University of Minnesota–Twin Cities in 1999. Currently, Shah's major research focus is on political and health communication, especially how online networks and the messages that flow through them can build community and provide social support but also erode social ties and our information environment. 
"Recognitions like the WARF Named Professorships are so gratifying because they affirm that your colleagues on campus recognize the impact of your research and mentoring." Shah said. "I'm so grateful to my mentors, colleagues and collaborators, especially because this recognition also lets me honor someone who helped me get on this path."
The WARF award includes $100,000 in research funding over five years, as well as the opportunity to select a name associated with the professorship. Shah chose internationally esteemed scholar and emeritus SJMC professor Jack M. McLeod. 
Over the course of his impressive 38 years as a UW-Madison faculty member, McLeod transformed the SJMC into a research and doctoral training powerhouse. Today, he remains one of the leading scholars in the study of political communication, mass media effects, public opinion and the role of media in broadening democratic participation. Shah has taken inspiration not only from McLeod's areas of research but also from his commitment to mentorship and community building.
"Jack is someone who I have very consciously tried to model my career after," Shah said. "When I came here, he took me under his wing, he invited me to the Mass Communication Research Center. I learned so much from Jack, and he was a wonderful mentor to me"
As an ardent supporter of the "science of team science," Shah followed in McLeod's footsteps to become the director of the MCRC and regularly collaborates cross-departmentally, as well as across other universities, to advance his work. Shah hopes to continue the community-focused legacy that McLeod built within the Center.
"Jack created an opportunity for so many of us and it was a very welcoming environment in the MCRC for anyone who wanted to do research," Shah said. "It has been one of the greatest honors of my life to try to continue that tradition and do that for the next group of scholars."