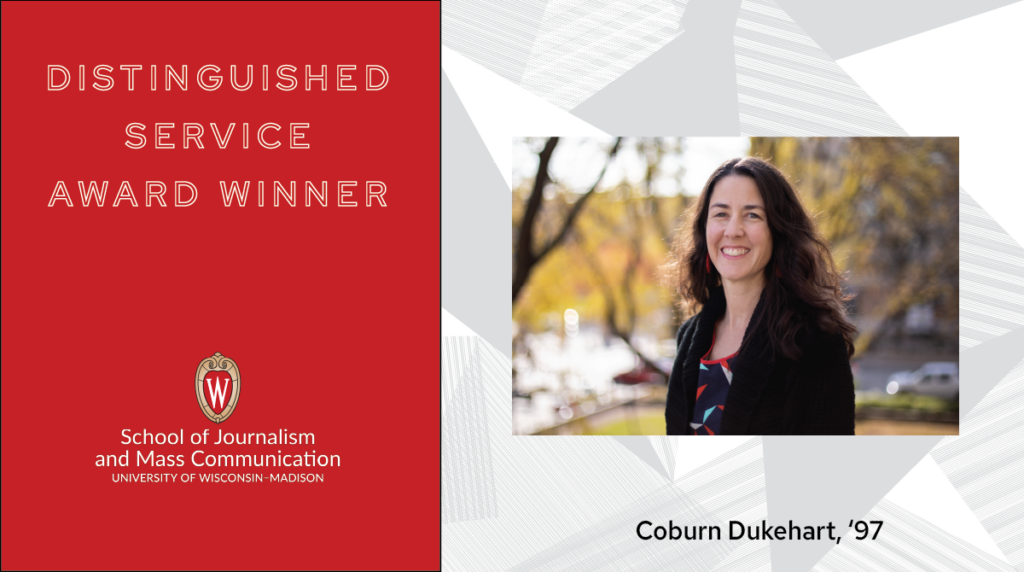 Coburn Dukehart is the Associate Director for Wisconsin Watch and the winner of the School of Journalism and Mass Communication's 2023 Distinguished Service Award. In her role, she acts as head of product, directs visual and digital strategy, creates visual content and trains student journalists. 
Dukehart has spent more than 20 years in a career spanning digital strategy, product development, photojournalism and multimedia storytelling. She previously was a senior photo editor at National Geographic, picture and multimedia editor at NPR, and a photo editor at USATODAY.com and washingtonpost.com. She has received awards from the National Press Photographers Association, Pictures of the Year International, the White House News Photographers Association, the Webbys, the Edward R. Murrow Awards, the Milwaukee Press Club, and has been nominated for a national Emmy. Dukehart holds Bachelor's degrees in journalism and English from the University of Wisconsin-Madison and a Master's degree in photojournalism from the University of Missouri-Columbia. She lives in Madison, Wisconsin with her husband Brad Horn and daughters Quinn and River.
What have you been up to since your time in the J-School?
I attended the University of Wisconsin-Madison from 1993-1997, so I've had many adventures since then! After graduating from UW I moved to London to work for a scientific publishing company doing page layout and design. After that, I worked as a graphic designer for a wine company in Boston. After these jobs, I realized pretty quickly that I wanted to get out from behind a desk and back into journalism, and pursued a master's degree in photojournalism from the University of Missouri-Columbia. From there I worked in varying capacities as a photo editor in my hometown of Washington, D.C., for  washingtonpost.com, USAToday.com, NPR, and National Geographic. In 2016 my family moved to Madison after I was hired as Digital and Multimedia Director at Wisconsin Watch — a nonprofit public service journalism organization. Wisconsin Watch partners with a variety of statewide news organizations as well as the J-School. I started my journalism journey in Vilas Hall in Madison, and that's where my office is today!
What are you focused on right now?
In November of 2022, I became Associate Director at Wisconsin Watch. After more than 20 years working on the editorial sides of newsrooms, I'm now turning my attention to the business side of non-profit news. Wisconsin Watch is funded by foundations and individual donors, and we always need to be raising money to support our mission. Wisconsin Watch is learning to tell our own story more creatively, in addition to producing journalism that informs and educates the public, and running a robust training operation for emerging journalists. As well as helping with editorial production, I am now overseeing the product, membership and audience efforts for Wisconsin Watch. I am also a member of the senior leadership team working to strategize a healthy future for local news statewide.
What's the most important lesson you learned in the J-School that helped you in your career?
What I loved about journalism, both as a student, and still to this day, is the opportunity to always be learning something new. I have spent almost every day of my career researching, experimenting, and exploring new things. I've learned how to interview people, use cameras and darkrooms, and kept up with ever-changing digital technology. I've learned how to use editing software, create and maintain websites, publish and distribute work, and engage with communities all over the country. I love how journalism is similar to anthropology — we study the world around us in an attempt to understand how systems work — or don't work — and explore what systems could be improved to better our lives. I've been honored to be a journalist because it never feels like work — it simply feels like exploration. I love that I get to work in close proximity to journalism students through Wisconsin Watch's relationship with the J-School, and to help young journalists experience the hard work and joy of that exploration.
When you weren't in class, how'd you spend your free time at UW?
When I toured UW-Madison as a high school senior the two things that most attracted me to the school were Lake Mendota and the kiosks on State Street advertising all types of live music with their colorful fliers. I spent much of the time that I wasn't in class attending shows at a variety of venues — most of which don't exist anymore. I was a regular at O'Cayz Corral, The Chamber, Club de Wash and The Barrymore. I also haunted the Exclusive Company and B-Side Records on State Street, as well as used CD stores. That experience nourished my love of live music, and introduced me to friends who I later went on to play in bands with in my hometown of Washington, D.C. After moving back to Madison, those friendships from more than 20 years ago helped connect me with other women who play music, and now I'm in a punk band with four other women (I'm the drummer), and we hope to start playing live shows this summer. The pandemic and the fact that most of us have kids and families has made progress slow, but for me it's been critical to have a creative outlet and friendships outside of work — to disconnect from my computer and other responsibilities for a few hours for the sole purpose of making noise and having fun.
If you were to give your college self a piece of advice, what would it be?
I would encourage college students to take advantage of the opportunities to intern and network with professionals in a variety of fields. Internships are a fantastic way to gain professional experience, and to also figure out what kind of work you may want to do, or not do in the future. I'm always surprised how connections and friendships I made through internships turn out to be mutually beneficial even 20 or 30 years later. College is a wonderful chance to experiment, try out different things, and even to fail, which can help inform the direction and choices you make later in life.
What does UW-Madison mean to you?
UW-Madison was the first place where I gained real independence. I learned that I loved walking long distances while a student here (you have to, to get between all the campus buildings and off campus apartments!) which in turn led me to love walking even longer distances when I moved to larger cities like London and New York. I loved the space, time and freedom that taking long walks gave me. I appreciate that I went to college at a time before cell phones existed, which meant that people walked with their heads up, making eye contact, instead of having our heads down in our screens. I know technology has improved our lives in many ways, but I do feel nostalgic for that time when life somehow felt more simple. When I think back to my time at UW-Madison I remember the hours I spent studying at Memorial Library, talking with friends in State Street coffee shops, hanging out on the Terrace, and even resting in the ladies lounge on the 4th floor of Memorial Union (another space that no longer exists!). I appreciate that UW-Madison provided the venue, the space, and the time for me to truly explore and find myself. All these years later, I'm proud to live here with my husband and two daughters, to experience all that UW-Madison and the surrounding communities have to offer.