Dr. Young Mie Kim, Professor at the UW-Madison School of Journalism and Mass Communication and Faculty Affiliate of the Department of Political Science, has been selected as a 2023-24 fellow at the Stanford University Center for Advanced Study of Behavioral Sciences (CASBS). The 2023-24 fellows class is comprised of 37 scholars representing 22 U.S. institutions and nine international institutions and programs. The fellows are leaders in a wide variety of fields including anthropology, architecture, communication, economics, education, history, information science, law, medicine, organization studies, philosophy, political science, psychology, public health, sociology, and urban studies and planning.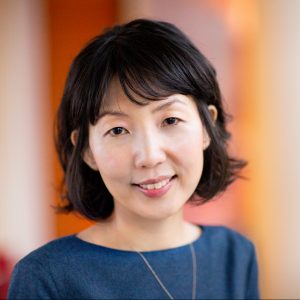 "I am so honored to be a part of this fellowship community. I really like that they emphasize, in their mission statement, 'deep thinkers' across different disciplines to generate human-centered knowledge," says Kim. "I had heard so many good things about this program. [CASBS'] former fellows are ones that I have cited all the time in my own research … I feel like there is an intellectual lineage and that's why I chose this program."
During her year-long fellowship, Kim will spend the first few months wrapping up her current research project which is focused on microtargeted digital campaigns, disinformation, and foreign election interference and what they mean for democracy. Her majority fellowship, however, will be an opportunity for Kim to expand upon this research and look more broadly at how data algorithms impact political inequality—unequal distribution of political knowledge and unequal representation in political participation. As a fellow, Kim will be able to run her ideas and research by members of her fellowship class, all scholars at the top of their respective fields, and explore a wide range of methodological approaches and perspectives.
While the fellowship is only one year long, Kim hopes to bring back new ideas and a fresh perspective to expand the current course that she teaches, "Misinformation in the Digital Age," to incorporate her research on the effects of algorithms on society.
"I'm hoping to either expand the course to include algorithms and AI, or introduce a whole new course that focuses on data, algorithms, AI, and what that means for journalism or strategic communication or the information environment in general," Kim said.

CASBS was founded in 1954 to explore societal problems and contribute to evidence-based policy and solutions. The Center brings together deep thinkers who are outstanding scholars and leading incubators of human-centered knowledge from diverse disciplines to advance understanding of the full range of human beliefs, behaviors, interactions, and institutions.
"The Center's annual renewal of its intellectual community is always an anticipated occurrence, even more so this year with the arrival of a new director," said Sally Schroeder, CASBS's deputy director. "Accordingly, we worked hard to set the bar of excellence as high as it has ever been and attract interest from some of the world's most innovative social and behavioral scientists. We're so gratified that we achieved, if not exceeded, our goal with the 2023-24 class."
Located at Stanford University, the Center is renowned for providing a home for exceptional scholars to pioneer research both individually and collaboratively. Since its foundation, CASBS has generated 30 Nobel Prizes, 52 MacArthur Awards, and 176 Members of the National Academy of Science.