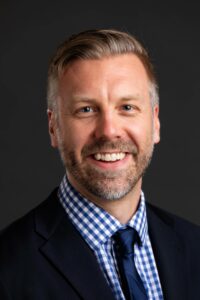 The School of Journalism and Mass Communication has welcomed a distinguished alum back to Vilas Hall as the new executive administrative director of the Center for Communication and Civic Renewal (CCCR).
Dr. Nathan Kalmoe, author of three books and two dozen articles that explore vital questions related to the news media, ideology and political violence, has joined the CCCR, where he will direct administrative activities and contribute to the center's research and public-facing missions.
CCCR Director Dr. Michael Wagner said the position, funded by the John L. and James S. Knight Foundation, will allow the center to expand its work. "We hit the jackpot with Nathan – he's an incredibly productive scholar who is also deeply committed to the free and fair practice of democracy. We are welcoming Nathan back to the Badger State at a time when sharing rigorously gathered and evaluated evidence about the state of democracy in our state is more important than ever. I can't wait to get started."
Kalmoe's most recent book, co-authored with Dr. Lilliana Mason, Radical American Partisanship: Mapping Violent Hostility, is Causes, and the Consequences for Democracy was published by the University of Chicago Press in 2022 and has been featured in outlets such as the National Review  and the New York Times. His book With Ballots & Bullets: Partisanship & Violence in the American Civil War, published by the Cambridge University Press, won two major book awards.
Maier-Bascom Professor and Scientific Director of the CCCR, Dr. Dhavan Shah, said, "We're thrilled to have Nathan returning to the UW, joining our team, and sharing his considerable experience and expertise with UW faculty and students. His research concerning media and politics in the United States and its implications for partisanship, polarization, and political violence are essential to our work."
The Center for Communication and Civic Renewal studies how the information ecology shapes the state of civil society and democracy in Wisconsin. The CCCR has been observing Wisconsin since 2019, examining how political life here has become so contentious and divided in order to identify solutions to help re-knit the civic fabric.
In 2022, CCCR scholars released Battleground: Asymmetric Communication Ecologies and the Erosion of Civil Society in Wisconsin, published by Cambridge University Press. The CCCR also hosted the Renewing Civic Life in Wisconsin: Honoring the Legacy of Bill Kraus conference, a collection of scholars, journalists, and politicians in conversation together about the future of democracy in Wisconsin.
Nathan Kalmoe's timely and exciting addition to the CCCR team will help shape the future contributions that the center seeks to make for the people of Wisconsin. Kalmoe was most recently Interim associate dean for undergraduate studies and administration at the Manship School of Communication at Louisiana State University. He earned his Ph.D from the University of Michigan in 2012 and graduated with degrees in journalism and political science from UW-Madison in 2005.