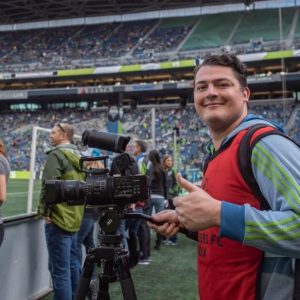 Rob Heimbruch graduated from the SJMC in 2018, packed his bags and moved to Seattle. A few months later, he came back. A Milwaukee native, sports fanatic and video guru, Heimbruch knew that when the Milwaukee Bucks came calling, it was time to go home.
Currently he works for the NBA team as their digital video intern and creates digital content for the Bucks' social media accounts and website. He describes his job as "pulling back the curtain" on what it's like to be at a game to provide a deeper look into the players and the experience.
And while he's new to the Bucks, Heimbruch is no rookie on the court. He grew up playing sports and cheering alongside the major Wisconsin teams as well. As a kid, he thought he might want to be a sports reporter, and as an undergraduate he took a job in the video services department of Wisconsin athletics. He reminisces about the time when he was filming on the field as Melvin Gordon broke the rushing record.
"It all kind of happened right in front of me, and it was a super huge moment for Wisconsin sports in general," says Heimbruch. "It was also the first time I really got to witness history and being that close, right up next to it, still is inspirational."
After graduation he accepted a postion with the professional soccer team, the Seattle Sounders, in Washington as their video production intern. He enjoyed his time with the organization and knew he would have plenty of room to grow there. But when a position opened with the Bucks, Heimburch knew this was a once-in-a-lifetime opportunity.
"A lot of people who move when they get a job in sports don't really ever come back home," he explains. "And to get that opportunity so quickly in what I was doing, it kind of just felt right, and I could feel the fit with the organization."
Heimbruch says he's been successful in his career so far because of what he learned while in the SJMC. He double tracked in both journalism and strategic communications, which helped him gain the skills that he uses every day. He says he "straddles the line" between both of these tracks, being a reporter and a supporter for the Bucks.
These days he's busy. NBA teams have an 82-game season, and he's working for all of them. But Heimbruch doesn't complain. He puts it like this: "The inherent part of the industry is that you're working nights and weekends, you're never really off. All of those aspects come together to make it a really difficult industry to work for, but at the same time, it's not really work when you're doing what you love."