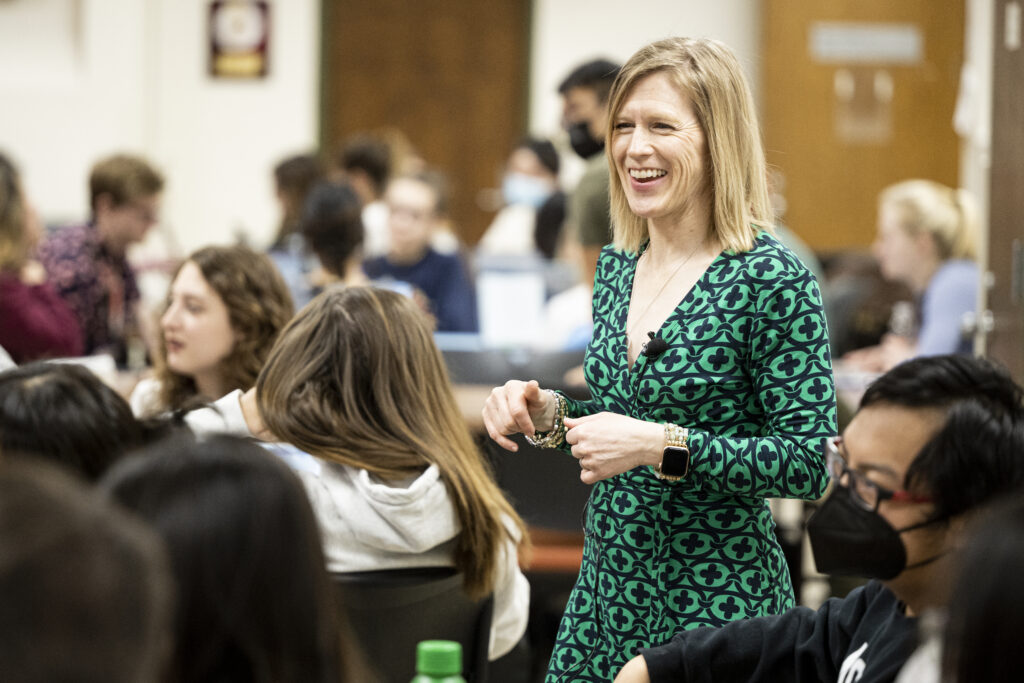 Stacy Forster, Teaching Faculty III in the School of Journalism and Mass Communication, has received the 2022 Chancellor's Hilldale Award for Excellence in Teaching. The award recognizes distinguished contributions to teaching in support of the primary mission of UW-Madison.
Forster has been teaching in SJMC since 2012. She teaches several key courses on both the reporting and strategic communication sides of the J-School curriculum, including Journalism 202, the six-credit gateway course to the major, Journalism 345, which introduces students to the strategic communication track, and Journalism 417, which produces Curb Magazine.
"Semester after semester, Stacy's teaching makes such a meaningful impact on her students," said Hernando Rojas, SJMC Director and Helen Firstbrook Franklin Professor. "From introducing undergraduates to the J-School in J202 to advising professional master's students, Stacy teaches students lessons they take with them far beyond the walls of Vilas. Additionally, her work with graduate teaching assistants encourages and informs the next generation of professionals in journalism and mass communication education."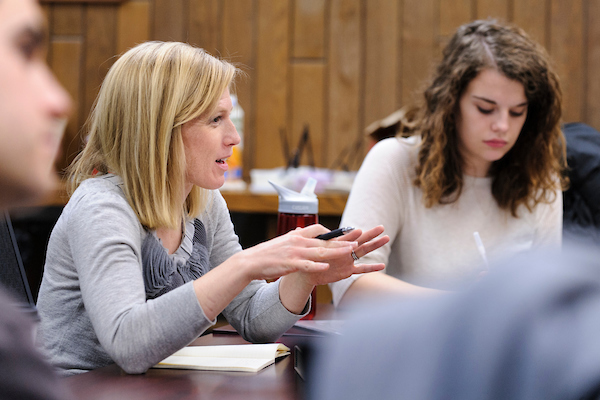 "It's a true honor and privilege for me to be part of our students' UW-Madison experience — I take seriously the trust they've put in me to help them on a career path they've chosen for themselves in our major," Forster said.
Associate Professor and James E. Burgess Chair in Journalism Ethics Kathleen Bartzen Culver, who first launched J202 and J417, praised Forster for her dedication to students and versatility in teaching.
"In 22 years of teaching and training other teachers, I have never encountered a person more talented, creative, caring and committed to teaching than Stacy. I learn so much from her innovations, and I'm proud to call her a colleague and a friend," Culver said. "If I were to build a great teacher from scratch, she would think, prepare, speak, write, and engage exactly as Stacy does. She is invaluable to J-School students and to UW-Madison. I am thrilled we have recognized her excellence with this tremendous honor."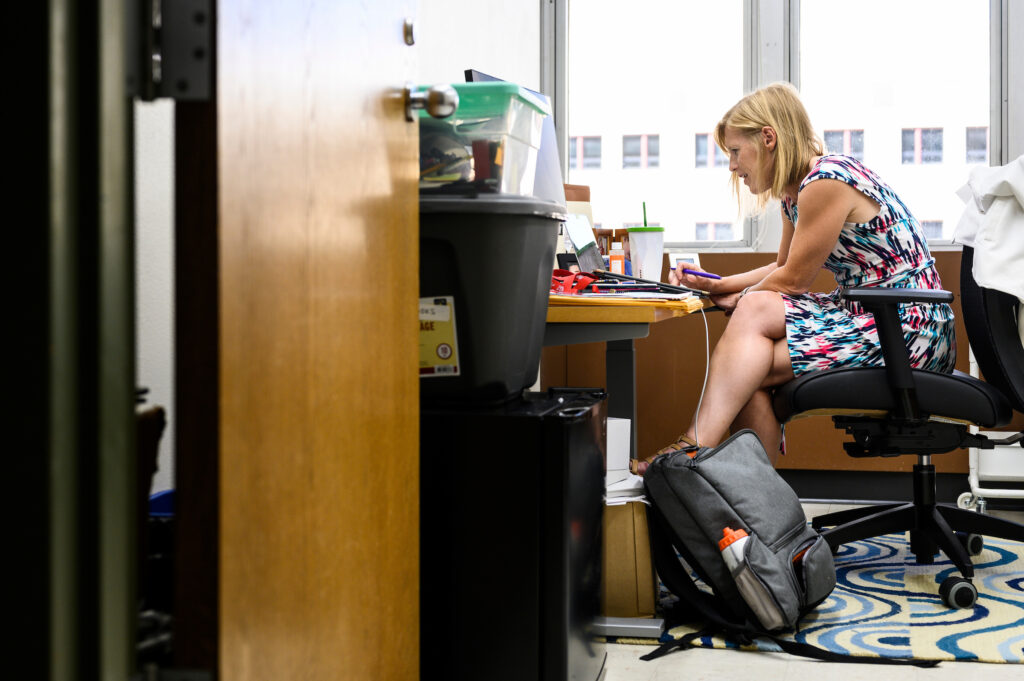 Stacy's students shared their memories of their time in Forster's classes and the impact she made on them during their time in the J-School.
"As a former reporter herself, Stacy grounds her classes in skills that are useful from day one on the job," said Cara Lombardo (MA'16), staff reporter at The Wall Street Journal. "She had our reporting class write beat memos, thinking through the various stakeholders (and potential sources) in the worlds we were covering and the key debates of the day. She helped many of us craft our first-ever public records requests, and if the first few didn't zero in on the information we wanted, she helped us tweak them and try again. And she kept us plugged into emerging reporting techniques, by analyzing coverage of current events and hosting guest speakers."
"Stacy empowers her students to get real-world experience in the classroom, every day," said Steve Horn (BA'14), Creative Director at Translation. "In J345, it felt like Stacy had such a strong sense of what it meant to be a professional communicator and every lesson was in service of reaching that goal (versus staying in the theoretical/hypothetical). To that point, she also does a great job of pulling in working professionals in her network to fill in any knowledge gaps she may have of the day-to-day of strategic comms. Finally, I can't mention Stacy without mentioning that she paired me up on our big group project with the person who would become my future wife. So that's cool too."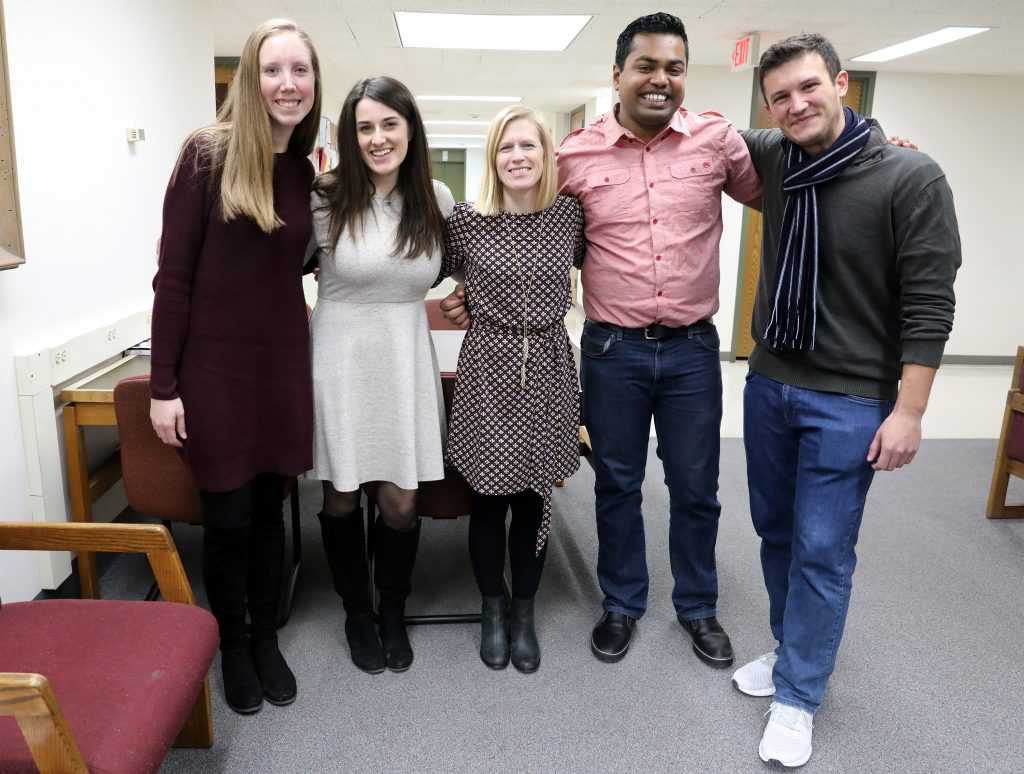 In addition to her teaching, Forster serves as the director of the professional master's program and the editor of Madison Commons. Before joining the faculty, she spent more than a decade as a reporter, working in Madison as a state Capitol reporter for the Milwaukee Journal Sentinel, and in New York for the Wall Street Journal Online, reporting and writing stories and creating multimedia graphics.
She also spent three years doing strategic communication and public relations work for UW-Madison's Office of University Communications and Marketing. She has a graduate degree from the Medill School of Journalism at Northwestern University.
"I'm inspired by our students' creativity, talents and determination, and I learn as much from them as they do from me," Forster said. "I'm also grateful for my colleagues in the school, who have supported and encouraged me every step of the way."
The awards are presented at a ceremony in the spring and all awardees receive a plaque and $5,000 stipend.