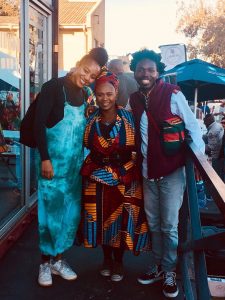 SJMC junior, Shiloah Coley, was recently named a 2019 Truman Scholar. The Truman Scholarship is a prestigious award presented to college juniors who display leadership in public service.
The Truman Scholar award is one of the most prestigious scholarships in the country, and it provides recipients with $30,000 to go toward graduate school and other opportunities to participate in public service leadership development. Coley is one of 62 winners chosen for the Truman Scholarship out of 840 candidates nominated by 346 colleges and universities.
Coley plans on pursuing a doctorate in sociology, where she intends to research the impact that art has on low income, urban communities of color.
"Shiloah is truly a rising star whose important work will make connections and amplify voices in a way that celebrates humanity," said Sue Robinson, one of Shiloah's professors in the School of Journalism and Mass Communication. "I am so happy that she exists in the world and was not at all surprised she won this prestigious award and grant. I know she will use it to make the world a better place."
Coley's passion for leadership and arts access flourished while at the University of Wisconsin. In the spring semester of 2018, Coley, a reporting track student in the SJMC, was a sophomore who landed an internship with the Madison Children's Museum. The internship though, did not only have her working at the Madison Children's Museum in Madison, Wisconsin. It also took her halfway across the world to Johannesburg, South Africa, as the internship was affiliated with The National Children's Museum and Play Africa, a South African non-profit dedicated to providing safe learning spaces for children.
During her spring semester in Madison, Coley served as a visitor experience intern who worked in the education department of the museum. Her primary project was to design a program that would facilitate cross-cultural education between the children in Madison and the children in Johannesburg.
"Essentially, what I did was create the "This is How We Do It" program," said Coley. "There were these little pieces of paper and each of them had something different written on it, like 'this is what I wear to school,' 'this is who I live with,' 'this is where I live.' It was essentially all these different prompts related to a child's daily life and we ran it out of the art studio at the Madison Children's Museum."
Coley says that children would select what prompt they wanted to do and they would draw out what the prompt meant to them and write a few sentences about what they had drawn. When she traveled to Johannesburg in the summer for the second part of her internship, the artwork the children in Madison had made came with her. Then, all of the children she worked with in South Africa did the same project, coloring and writing about what the prompts meant to them. Coley collected all of the artwork to make a display showcasing both the works from the children in Madison and the children in South Africa.
"It was really interesting to look at because you would recognize that there are a lot more similarities amongst kids than there are differences, even though they're on totally different continents and opposite sides of the world," said Coley.
While in South Africa working with Play Africa, Coley served as the art programming intern. Apart from running a collaborative program between the Madison Children's Museum and Play Africa, she also ran a program with the Metropolitan Museum of Art. The MET reached out to Play Africa to run the #METKidsProgram, where children recreate images taken from the MET's archive. As an intern, Coley was given a huge responsibility as she took on this partnership and essentially served as the curator.
Coley decided to go through the MET's archives looking for photos of children; children with their families, children at play, children living their lives. As she was looking through the archives, she realized that there were few to no images of children of color included.
This is when Coley changed her idea.
"I still selected images of children at play, portraits of children and children with their families. But when I had kids recreate it, I told them to insert themselves, their friends and their family, to make this about them," said Coley. "I asked them to keep the composition similar, so it was this idea of like reclaiming the narrative and making it relevant to the children who are making the artwork as opposed to just having them copy all this artwork that wasn't really representative of their own lives and what was going on in their lives."
After returning to Wisconsin for the 2018 fall semester, Coley resumed her internship at the Madison Children's Museum. Shortly after, the MET contacted Coley asking her to run the program she created at Play Africa during their World Culture Festival.
Coley flew to New York City for the World Culture Festival and spent two days running the program she created while interning in South Africa. During these two days, Coley served more than 180 families who stopped to visit her program.
"Something for me that was super important when I was at the MET, was that they had a screen showing the work that the children at Play Africa had made," said Coley. "To see that representation of black and brown children and their artwork being in the MET — that representation is so important. Historically, when we look at art, there are certain bodies that are immediately not included…so actually seeing artwork that the kids had made in Johannesburg displayed in the MET and watching people stop to look at it…that was a really powerful experience for me."
Despite the fact that she is a journalism major, Coley says she has always had a passion for art, and her dual internship between the Madison Children's Museum and Play Africa pushed Coley to combine these loves. Coley credits the School of Journalism and Mass Communication for preparing her well to take on an international internship. Being a strong communicator was something she had to be consistently good at, as Coley was granted independence in both of her internships.
"Overall, journalism prepared me with a skill set that made me a great communicator and really allowed me to excel in these internships — even though they weren't necessarily directly related to journalism," said Coley.
Coley is currently completing her junior year at UW-Madison and serves as the co-editor-in-chief of the Black Voice, a black student-run online magazine. Her work at Play Africa has also followed her back to campus, where an exhibit featuring her art program will be showcased at the Madison Children's Museum this spring.