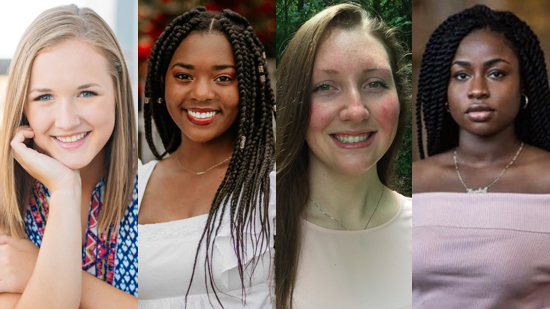 By Emily Knepple
Every year, the Wisconsin Broadcasters Association (WBA) awards four scholarships to students currently enrolled in media-specific courses at universities and colleges across the state.
This year, three UW-Madison J-School students won scholarships for their exceptional work in broadcasting, alongside their commitment to bettering the future of the industry as a whole. 
Reagan Zimmerman, Tamia Fowlkes and Kingsley-Reigne Pissang will be accepting the awards on March 6 at the virtual WBA student seminar. Sydney Trupp, a student from UW-Whitewater is also a recipient. 
Reagan Zimmerman, a senior from Ripon, WI, heard about the scholarship from SJMC Distinguished Faculty Associate Pat Hastings. Zimmerman has worked on the "Badger Report," interned at NBC 15 in Madison and has also had an internship with the US Army. Her past experience in broadcast exemplifies her commitment to the field, as she continues to learn more and apply it in the real world. 
When she got the call from the WBA, she recalls being speechless. Zimmerman shares that it was nice to be recognized on the state-level. "To be recognized by individuals within the broadcasting field at a statewide level was kind of wild to me," Zimmerman said. "It made me think, maybe I am good at this and maybe I can do this for the rest of my life. I also couldn't stop saying 'thank you'."
Fowlkes, a junior from Milwaukee, heard about this opportunity from a few professors and was immediately interested in diving deeper into the opportunity. 
"To write and talk about why I'm passionate about that kind of career was so cool," shared Fowlkes. Applicants were asked to answer a few questions about their interest in broadcasting and what it means to them personally. "As the journalism field continues to diversify, being able to talk about the ways we want to see it change and grow in the future is really exciting." 
Fowlkes is majoring in both Journalism and Political Science, with a certificate in Gender & Women's Studies. Her work across these disciplines is enhanced with broadcasting and she's currently involved in a handful of groups on campus. Fowlkes has interned at the Wisconsin State Journal and produces a podcast titled "Pod-Cast Your Vote".
"I'm really interested in broadcasting, so to have that reaffirmation from someone is nice, to think 'hey, I can do this,' that's always a good feeling and I'm really grateful," Fowlkes said. 
Pissang, a fifth-year senior originally from Detroit, is double-tracking in the J-School, as well as majoring in Afro-American studies, with a certificate in Leadership. 
Pissang had also heard about this opportunity from Hastings and said the scholarship means a lot to her."It helped to validate that I'm on the right path," she said. 
As the current president of the Student Inclusion Coalition, Pissang shares that in the last year, she's done a lot of work voicing student demands. This included writing scripts and tapping into other broadcasting skills, which proved to inspire her on her application. 
She contributes to The Black Voice frequently, and previously served as the President of the UW Black Student Union and co-chair of the UW's Black History Month committee. 
These students illustrate the J-School's capacity to teach students how to do real, tangible work. Pissang admits that students in the moment might look at courses for what they appear to be; homework, tests, deadlines, etc.. However, she shares that with an award like this, "you realize that the J-School does a great job at preparing students for real careers."