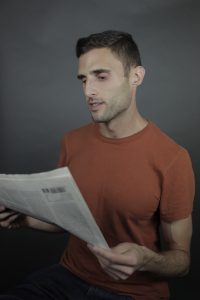 Name: Jacob Kushner
Title: Freelance Foreign Correspondent
Graduation year and degree: 2010 BA in Journalism and Latin American, Caribbean & Iberian Studies
International journalist Jacob Kushner has reported on critical topics from across the globe. His work has appeared in dozens of publications, including The New York Times, The Atlantic, The New Yorker, Harper's, The Economist, National Geographic, Foreign Policy and The Guardian. In one of his latest projects, "Stopping the Next One" for BBC Future, he partners with journalist Harriet Constable to explore animal-borne illnesses around the world that run the risk of becoming the next global pandemic, and what scientists are doing to prevent this. We caught up with Jacob to hear more about his reporting and advice he has for J-Schoolers.
When it comes to this reporting project, what are you most proud of?
My sources! These scientists are out there on the front lines trying to identify and stop the next pandemic. They are dedicated, smart and tend to approach their work with a delightful sense of humor. They made me feel optimistic that we can mitigate or even prevent future pandemics — if only we put policies in place to stop humans from destroying ecosystems and exacerbating the spread of zoonotic disease.
When COVID-19 lockdowns prevented me from traveling to Brazil to report the story about yellow fever outbreaks among monkeys and humans, Brazilian scientists picked up an iPhone and a tripod and video-called me and sent me audio recordings from Brazil's Atlantic Forest where they were vaccinating monkeys against the disease. By doing so, they illustrated to our readers and viewers how humanity's fate and the fate of these animals are intertwined. They also spent hours helping me understand complex concepts of biology, ecology, virology and more.
Even though they didn't always agree with the way we had to simplify the science to help our audience understand, they complimented us for getting the story right. Which reminds me of something the Maltese-American journalist and illustrator Joe Sacco wrote, that "a journalist who says, 'well, I pissed off both sides–I must be doing something right,' is probably fooling himself and, worse, he may be fooling the reader."
I think one good test of good journalism is not just whether your audience respects what you've reported, but your sources too — even when they might disagree.
What's the best advice you have for a J-School student who wants to do what you do?
Don't make it an "Africa" story or an "immigration" story or a "science" story or a "school board" story. Make it a story that is so interesting — and so important — that you could write it for any section at all. One of the ways to do this is to pursue stories that challenge our own assumptions:
Remember that it's not just about asking your sources "the tough questions." We need to ask uncomfortable questions of our audience, too:
What is your favorite J-School memory?
That time when I stormed into the basement of Vilas to complain to a Daily Cardinal editor about an error in a headline, and instead of arguing back or ignoring me, he grinned sheepishly, apologized, then became my best friend.