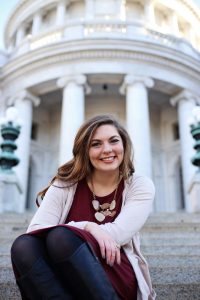 Name: Meagan Doll
Title and Organization: PhD student, Department of Communication at the University of Washington
Graduation year and degree: 2016 BA in Journalism and Mass Communication with certificates in African Studies and Global Health
J-School alum Meagan Doll has received a 2021 Distinguished Dissertation and Thesis Award from the University of Washington for her thesis "Interpreting Peace Journalism in East Africa: Individual, Organizational, and Professional Influences". We caught up with her to hear more about how she was able to conduct an international research project in the midst of the pandemic, and how her time at UW-Madison has helped her at "the other" UW.
When it comes to this award, what are you most proud of?
I'm proud of the way that the project developed, despite the circumstances presented by COVID-19.
My master's thesis was initially conceptualized as an international fieldwork project, relying heavily on interviews with and observation of journalists in East Africa. I worked hard to secure funding and prepare for this research trip, but — like so many — I had to pivot when international travel became untenable. After many conversations with mentors and my advisor, I reframed the project to be completed remotely and conducted interviews virtually from my one-bedroom apartment in Seattle (at very odd hours and over many cups of coffee!). I'm really thrilled that I was not only able to complete the project satisfactorily but that it has generated some buzz beyond my own interest in the topic.
What's the best advice you have for a J-School student who wants to do what you do?
For those interested in graduate school, I'd advise students to figure out what really interests them but then be willing to listen, learn and be patient with the learning process. My research does not look exactly how I imagined when I was applying to graduate schools, but it is much stronger than that in many ways. And, of course, on the path to any successful project or award is the capacity to adapt and respond strategically to changing circumstances. I am very confident that my training and professional background in journalism coupled with international fieldwork experience were critical to my ability to get this project done and done well.
What is your favorite J-School memory?
I'll never forget a conversation my senior year where Lucas Graves suggested that I think about getting my PhD. I scoffed across his desk at the idea. Joke's on me!
But in all seriousness, I talk about the infamous J202 class with my journalism students at the University of Washington. That class was hard, but it was one of the most impactful courses I've taken because it forced me to expand in ways I couldn't have predicted. I am also still grateful to the SJMC faculty and staff who supported some of my most ambitious undergraduate goals, like working with the Center for Journalism Ethics or organizing a reporting internship in Uganda. Those experiences were formative and remain some of my best memories.