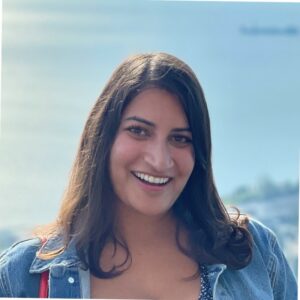 Name: Nina Kumar
Title and Organization: Global Head of Social Media Care, Uber
Graduation Year and Degree: 2014, B.A. in Journalism and Political Science
After graduating from the J-School in 2014, Nina Kumar started her career at Golin, a global public relations agency, before moving to Uber where she was recently promoted to Global Head of Social Media Care. She shares her proudest accomplishments and favorite memories of the J-School.
When it comes to your professional accomplishments, what are you most proud of?
Running social media for various Super Bowl ads is a big one, but I think starting to manage people and realizing you actually know what you're talking about and are able to guide others is really rewarding.
What's the best advice you have for a J-School student who wants to do what you do?
Talk to as many people as you can in different fields/roles about what their day to day job actually looks like. Sometimes the sparkly perspective of a job from the outside is different from reality.
What is your favorite J-School memory?
Either the senior J-School bar crawl, getting lost in Vilas or the wonderfully awkward interviews I had for J202.