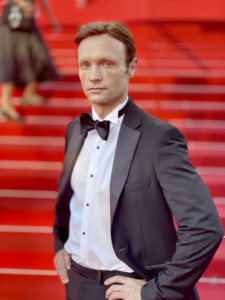 Name: Hans Obma
Title and Organization: Creator, Writer and Lead Actor in the intended series A Question of Service
Graduation Year and Degree: 2002; B.S. in Journalism and Spanish
Each May, social media feeds are filled with glamorous red carpet photos from Cannes, France as celebrities and artists flood the city for the annual Cannes Film Festival. This year, however, J-School alum Hans Obma got to experience the festival himself. Obma's film, A Question of Service, was selected for this year's American Pavilion Emerging Filmmakers Showcase. The showcase has highlighted the next generation of filmmakers since 1997 and features 25 to 35-minute short films selected by a panel of industry judges.
Obma wrote A Question of Service during the COVID-19 lockdown and intends for it to be made into a TV series. The short won Best TV at its Los Angeles premiere at HollyShorts and the team behind the film won four awards at the Catalyst Content Festival, including Best Drama Series and Best Actor for Obma's work on screen. Obma shared with us his proudest moments and his advice for J-Schoolers looking to break into the movie scene.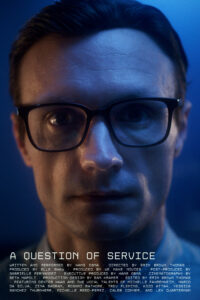 When it comes to your film, A Question of Service, what are you most proud of?
I am most proud of the scope of A Question of Service and its potential to change my life in exciting ways. The existing film is the proof of concept for a TV series, the pilot of which I have also written. At every stage, there were times when I longed to quit and sit in front of a TV eating Subway (this may have happened on a weekend or two!). Instead, I persisted, and it's taken me places that would otherwise not have been possible. It's taken me to Austin, Cannes, Hollywood and the UK. I intend for the series to shoot in Wales and England.
What's the best advice you have for a J-School student who wants to do what you do?
In my experience, the way to advance professionally is to rely on ones strengths as often as possible (and focus much less on ones weaknesses). With A Question of Service, I endeavored to write a project that relies on my strengths 100% of the time. The main character is a sensitive man who speaks multiple languages. Figure out where your strengths lie, and work on turning those strengths into super strengths.
What is your favorite J-School memory?
My favorite J-School memory was creating a video segment with classmate Jen Griswold about the UW Gospel Choir for Professor Pat Hastings. It was a purely creative endeavor that I'm still super proud of.