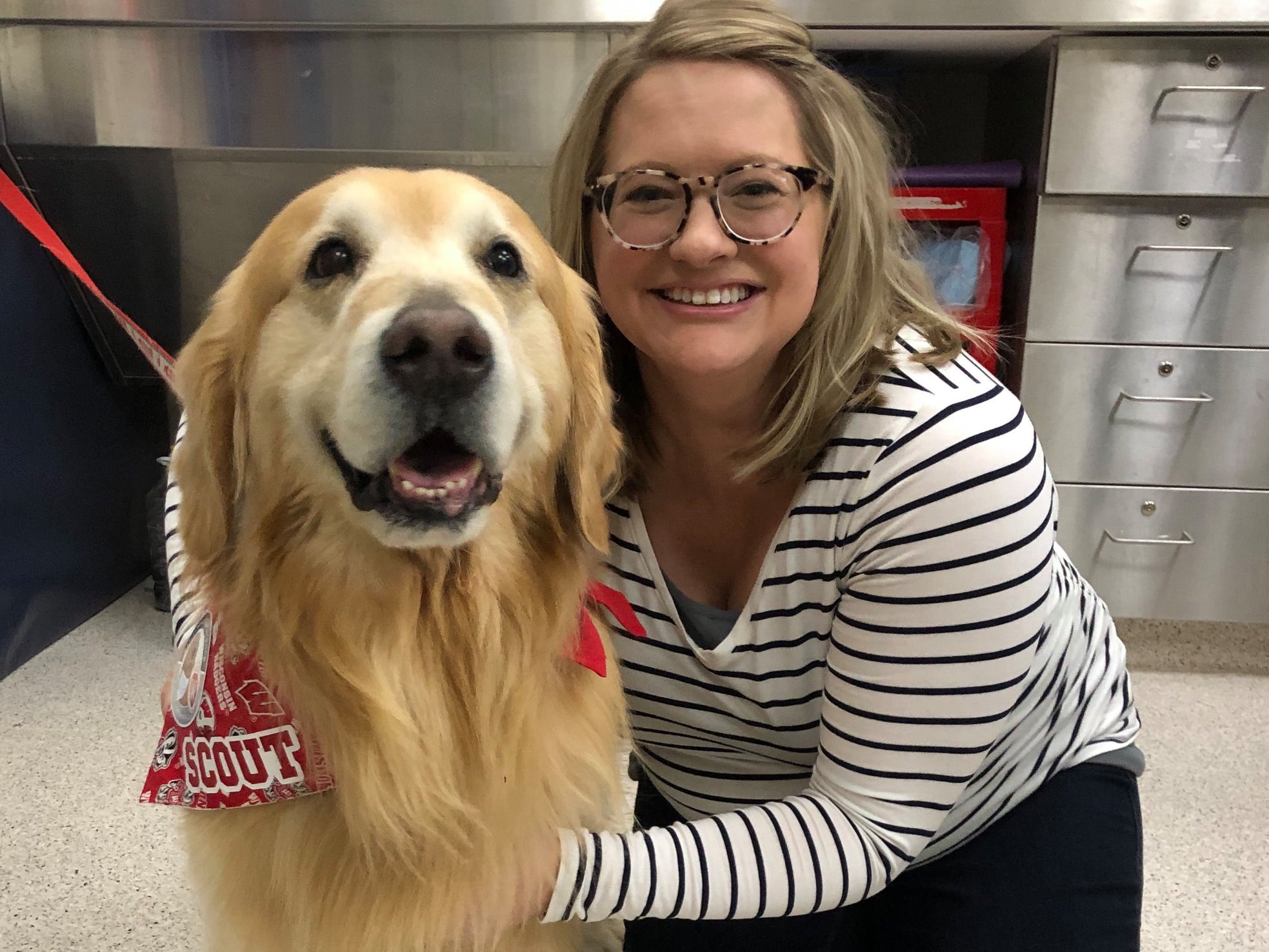 Name: Ashley Voss
Title and Organization: Communications and Marketing Manager, University of Wisconsin-Madison School of Veterinary Medicine
Graduation year and degree: 2007 BA in Journalism and Mass Communication
Alum Ashley Voss had a special reason to tune into the Super Bowl this year. Her team was featured. Not her favorite football team but her colleagues at the UW-Madison School of Veterinary Medicine. They all made news when the CEO of WeatherTech bought a commercial spot and featured Vet Med in thanks for its work saving his family dog Scout from an aggressive cancer. Ashley, the school's communications and marketing manager, helped tell Scout's story across social media and news stories. 
1. When it comes to Scout and the Super Bowl spot, what are you most proud of?
It's hard to choose just one element that I'm most proud of in the process of sharing Scout's story on such a large scale! Overall, I'm proudest of the teamwork and collaboration that went into making the commercial and supplemental video pieces, creating the marketing assets and communications plans, building the campaign websites and online resources, and doing our best to prepare for the "main event" on Super Bowl Sunday. This required an incredible team effort between WeatherTech and their partner agencies, the School of Veterinary Medicine, University Communications, and the Wisconsin Foundation and Alumni Association. Of course, once we unveiled the commercial in the week leading up to the Super Bowl, it was also AMAZING to see the response from our audiences and across the country — the support of the Badger community was especially strong!  
2. What's the best advice you have for a J-School student who wants to do what you do?
Never stop learning. Take advantage of a variety of courses offered through the J-School and other departments, pursue internships or other activities that help put those skills into practice and work toward becoming a well-rounded communications professional. I'm part of a small but mighty communications and marketing team at the School of Veterinary Medicine, so in addition to the traditional writing and editing, my role includes overseeing the school's website and social media properties, graphic design of publications and marketing pieces, planning outreach events and more.
3. When we say "J-School," what do you think of?
I have such fond memories of the J-School, the incredible faculty and staff and my classmates who made toiling away in the windowless computer labs of Vilas Hall bearable! Of course Katy Culver's J202 "bootcamp" and weekly AP Style and news quizzes set the foundation for the whole experience, but my favorite class was her magazine publishing class, where I wrote feature stories for the 2006 issue of Curb Magazine (make sure to check out our website built in Dreamweaver 😊). The History of Journalism, taught by former J-School Director James Baughman was also a favorite of mine. His humor made what could have been a dry subject quite engaging and his comedy and student engagement extended beyond the classroom. I was an arts reporter and editor for the Badger Herald as a student, and Professor Baughman (sporting a Cleveland Indians jacket of course) was the celebrity umpire for my final Herald-Cardinal softball game.