Angelina Stone, an administrative assistant at the UW-Madison School of Journalism and Mass Communication, received a University Staff Award honoring her outstanding contributions to the College of Letters and Science.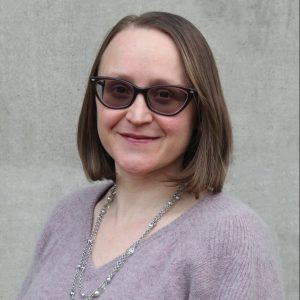 L&S awards five staff members each year for their excellent service, innovation, leadership and service to the university. This is the second year in a row a J-School administrative staff member has won an award for their work at the university.
"We care about the work we do, and we try to make it the best," Stone said. "This department is very focused on how we can get through things together, how we can make things equitable and how we can communicate better."
Jenni Hart, the department administrator for the J-School, said Stone stands out in the department by offering to make things easier for others behind the scenes. In her part-time position, Stone is responsible for coordinating teaching evaluations, admissions, the scholarship process and for serving as a liaison for several committees.
As an alumna of the university, Stone often interacts with students. "She's always the first one to help when a student asks," Hart said. "She's super enthusiastic about helping students and I think that's because she was a student here and has this connection with them because she knows what they're going through."
Stone thanked the department for being a welcoming place to work and those who nominated her for the award.
"When they told me they were going to put my name in the basket and nominate me for this award, I felt honored even just to have people support me and believe in me," Stone said. "The people you work with make a huge difference in your quality of work, your quality of life and your mental health, and I really enjoy working with people in this department."