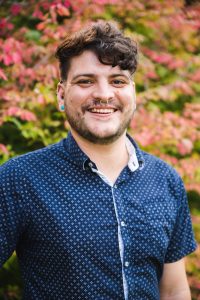 Name: Luis Gryffin Loya (he/him)
Expected Graduation Date: May 2023
SJMC is proud to have some of the most outstanding students anywhere. From scholarship and research to their work in the community, J-Schoolers are making their mark on the world and living out the Wisconsin Idea. One such J-Schooler, Ph.D. student Luis Gryffin Loya, recently won a campus-wide teaching assistant award. We caught up with Gryffin to hear more about him and what he hopes to do after graduation.
Tell us a bit about this award and your experience as a TA.
I received the Innovation in Teaching Award which recognizes TAs who bring extraordinary creativity to their work and have developed or adapted teaching methods or techniques in new and innovative ways.
I'm currently the lead TA for J202: Mass Communication Practices for the School of Journalism and Mass Communication, where I helped move the course to remote instruction and adapt in-lab writing coaching to the virtual classroom. I've also TA'd for J175: Media Fluency in the Digital Age in the summer with Deb Pierce, who's enabled me to take an active role in developing the course curriculum. Before arriving in Wisconsin, I worked for two years as a TA for introductory communication theory and public speaking.
What is the focus of your research and your dissertation?
I research two areas within political communication. One line examines protest news coverage and how this affects social movement outcomes.  I also study political satire and am currently investigating how humor can reduce political polarization. Overall, I'm most interested in understanding how social justice issues are institutionalized. I'm still developing my dissertation but will explore how news coverage of Black Lives Matter protests influences policymakers and criminal justice reforms. I am hoping to understand the agenda setting effect of protest on the individuals who have the power to introduce or support legislation.
Have you received any other awards or honors?
Thankfully, I've received funding from SJMC and from the Advanced Opportunity Fellowship in the College of Letters and Sciences. I've also been recognized for my contributions to our Communication Crossroads Conference.
What types of jobs are you looking for after graduation?
Like my research, I want to do work that I feel has a clear, practical impact. I'd love the opportunity to continue teaching in the college environment, as a professor or in helping other teachers develop their curriculum and online course content. I'm also interested in applying my research background as a policy analyst for think tanks and non-profits.
Any other fun facts you'd like to share?
I'm a proud member of the 45×90 club and Nelsen's Bitters Club. My name is also flying through space, affixed to the OSIRIS-REx on its mission to asteroid Bennu.