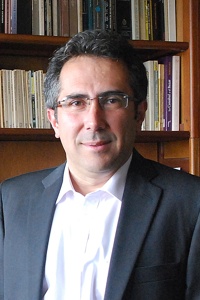 Dear J-School Friends,
As we come to the close of another academic year in the School of Journalism and Mass Communication, I want to proudly share some of the accomplishments of our department with you. The last few years have been challenging for us all, but the dedication of our students, faculty, staff and alumni has been both encouraging and inspiring.
With a return to in-person learning, our students and instructors have adapted remarkably well to the changing environment. The safe return to the classroom and face-to-face interaction have been one of the highlights of my year, demonstrating the value of connection and collaboration in our School.
Our undergraduate students have continued achieving great things, like receiving awards from the Wisconsin Broadcasters Association and Milwaukee Press Club. Students of The Black Voice produced a documentary about the organization's history titled "We the Vision," which premiered in March in a screening at Union South's Marquee Cinema. Students in Professor Doug McLeod's strategic communication classes worked with UniverCity Alliance to create real life campaigns promoting Wisconsin cities, including promoting diversity and mental health in the Village of Waunakee.
After having to hold the event virtually last year, our graduate students were able to host the Communication Crossroads Conference in person once again, highlighting student research on a variety of topics including health communication, social movements and political discourse. Our graduate students are also being recognized at the university level, including Gryffin Loya, who received a campuswide TA Award for Innovation in Teaching, and Aman Abhishek, who was named a Mosse Graduate Exchange Fellow and will be studying at the Hebrew University of Jerusalem.
Additionally, our faculty and staff have continued to be acknowledged for their strong commitment to teaching and research. Assistant Professor Sijia Yang received an Exceptional Service Support Award from the Office of the Provost. This award will support his crucial research, including a major project on combating vaccine hesitancy called the Communities Confronting COVID-19 (C3) Project. Teaching Faculty Stacy Forster received the Chancellor's Hilldale Award for Excellence in Teaching, recognizing high-quality instruction and her distinguished contributions. Stacy's impact on students is evident throughout the School, from introducing students to SJMC in J202 to leading students in J417 as they create Curb magazine, to her work with professional master's students. Professor Sue Robinson won one of the UW-Madison Awards for Mentoring Undergraduates in Research, Scholarly and Creative Activities for her mentorship in the classroom as well as her work with The Black Voice, the National Association of Black Journalists, the Undergraduate Research Scholars Program and the McNair Scholars Program.
Finally, I wanted to recognize and thank our alumni and friends of the School for all of their support over the course of this year, especially during our recent Day of the Badger fundraising campaign. Together, we were able to raise $31,743.06 from 138 donors, which included a generous matching gift from current and former Board of Visitors members, led by Ben Deutsch and Scott Farrell. Events like this show that when the J-School community comes together, we can truly make a difference for students.
I thank each of you for taking the time to read this newsletter and for staying connected with the J-School. Your ongoing support means the world to us and our students. 
On Wisconsin!
Hernando Rojas
Director, School of Journalism and Mass Communication