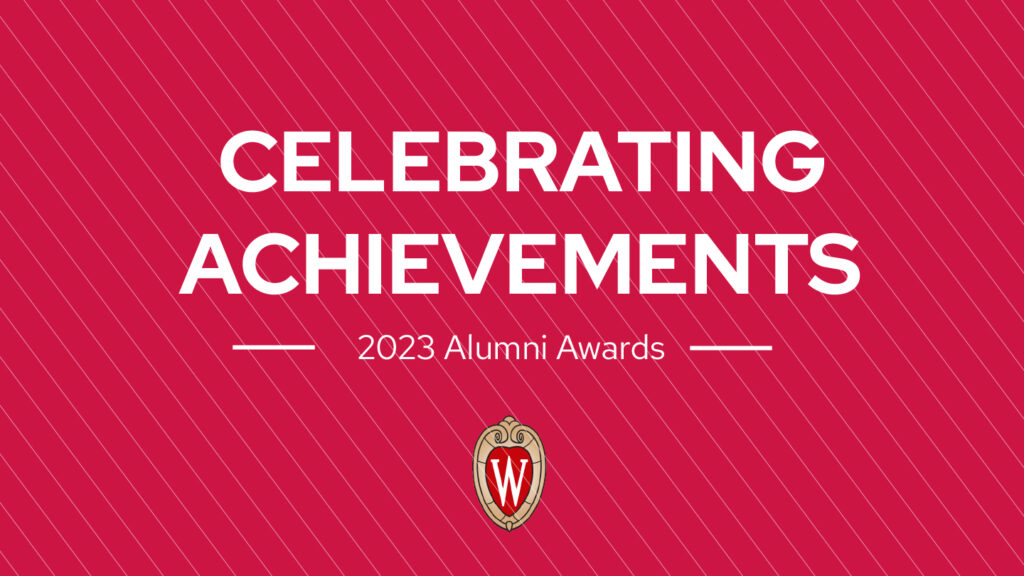 The School of Journalism and Mass Communication's 2023 Alumni Awards Ceremony will take place Friday, April 28.
This year's impressive list of accomplished alumni includes a variety of careers in crisis communications, advertising, journalism, research and teaching. Please join us in honoring these outstanding alumni and their accomplishments. On, Wisconsin!
Ralph O. Nafziger Award
This award is named for the late Ralph O. Nafziger, who was director of the school from 1949 until his retirement in 1966. Nafziger built an international reputation as a leader in journalism education. The honorees receive recognition for showing remarkable professional initiative and promise within 10 years of graduation.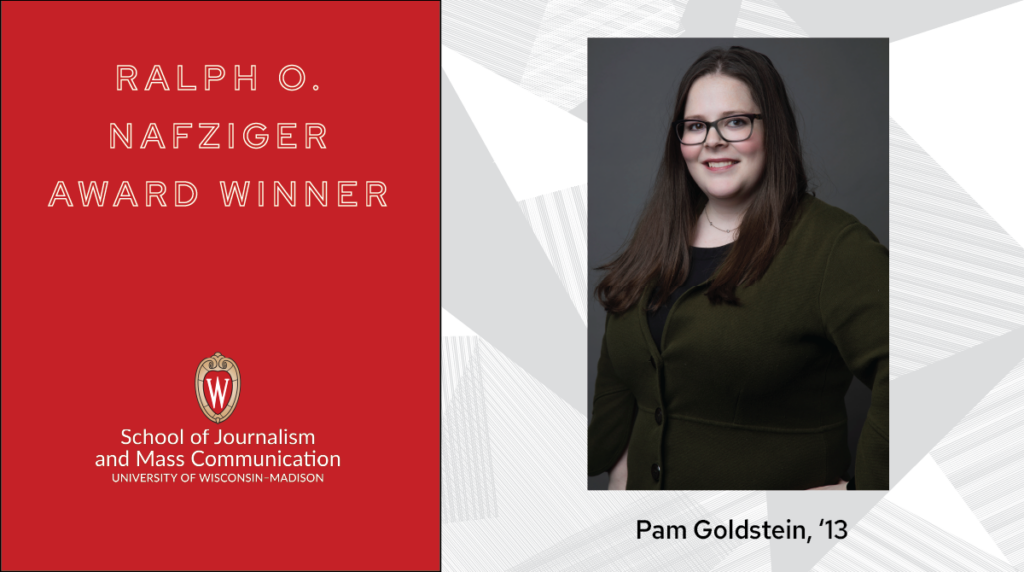 Pam is the Director of crisis communications for McDonald's and throughout her career, has been on the front lines of some of the largest and most complex corporate issues. In 2020, she led McDonald's global COVID-19 response and partnered with the White House to roll out nationwide vaccine education to U.S. restaurants for which she won several awards. Pam was also was named to PR Week's 40 Under 40 in 2021. See our infographic about Pam's impressive early career achievements.
Harold L. Nelson Award
This award is given for distinguished contribution to journalism and mass communication education. The award is named for Harold L. Nelson, director of the School of Journalism from 1966 to 1975. Recipients have taught in some of the most distinguished journalism programs in the nation.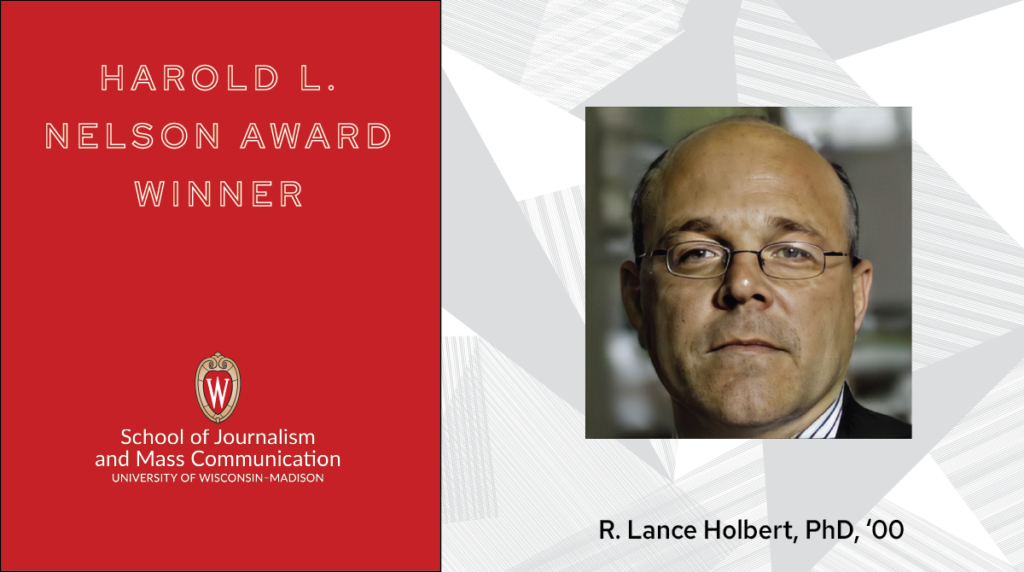 Lance Holbert is a professor of communication and social influence at Temple University's Klein College of Media and Communication. His research focuses on persuasion-based processes of media influences in politics. Lance has authored and co-authored over 100 peer-reviewed journal articles, books and book chapters and is a Distinguished Research Fellow at the University of Pennsylvania's Annenberg Public Policy Center, an International Communication Association Fellow and just completed a stint as Editor-in-Chief of Journal of Communication. Read more about Lance's research and what UW-Madison means to him.
Sharon Dunwoody Early Career Award
The Sharon Dunwoody Early Career Award recognizes distinguished achievement in teaching and research within 5-10 years of graduation from the PhD program.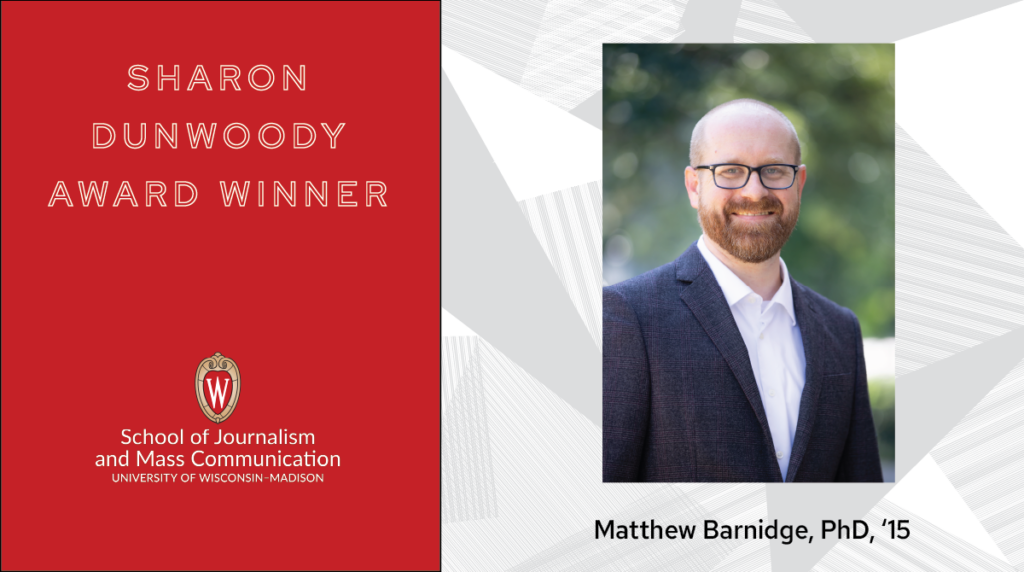 Matthew Barnidge is an assistant professor in the Department of Journalism and Creative Media at the University of Alabama. His research focuses on political communication and how political news and public opinion are shaped by media systems, social norms and digital platforms. Matthew is also the associate editor of the International Journal of Public Opinion Research and has published more than 40 peer-reviewed articles. See our infographic about Matthew's career, his advice to students and lessons learned from the J-School.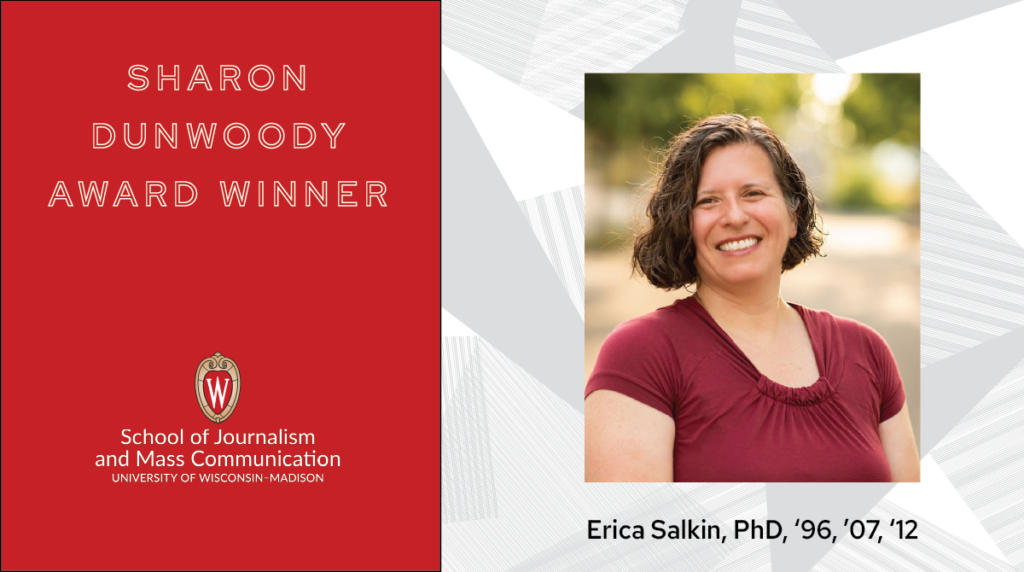 Erica Salkin is an associate professor of communication studies and associate dean of the College of Arts and Sciences at Whitworth University in Spokane, Washington. Her research focuses on freedom of expression in academic settings. Erica is the author of several articles and books on student media and student speech rights and advises the student newspaper, "The Whitworthian." See our infographic about Erica's accomplishments and what UW-Madison and the J-School mean to her.
Distinguished Service Award
Each year the School honors outstanding alumni. Faculty select award winners based on their achievements in all fields of journalism and mass communication.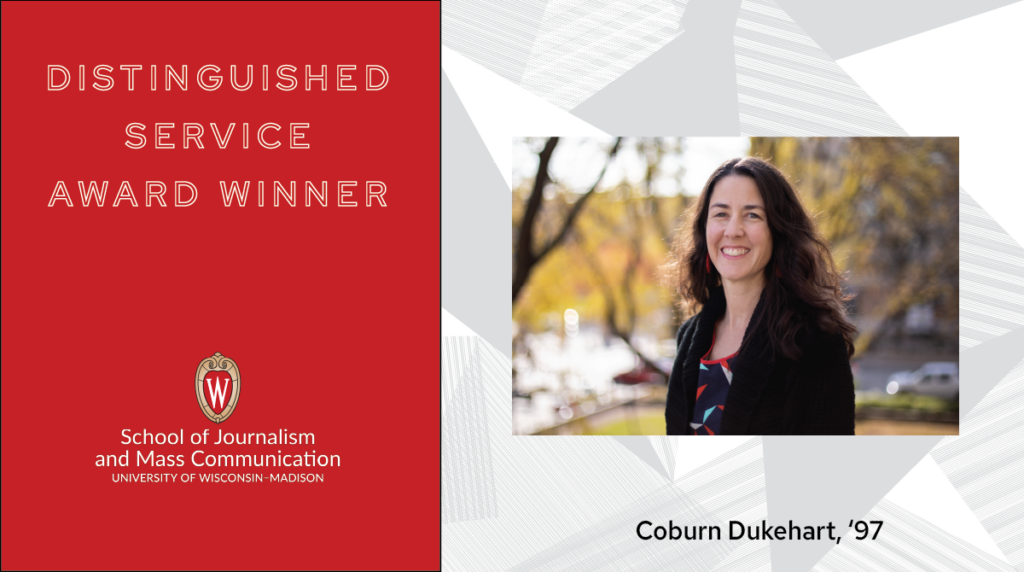 Coburn Dukehart is the Associate Director for Wisconsin Watch. Her career spans over 20 years and includes work in digital strategy, product development, photo journalism and multimedia storytelling. Coburn has worked for National Geographic, NPR and USATODAY.com and WashintonPost.com and has received awards from the National Press Photographers Association, Pictures of the Year International, the Webbys, the Edward R. Murrow awards, Milwaukee Press Club and has been nominated for a national Emmy. Read more about Coburn's career and achievements.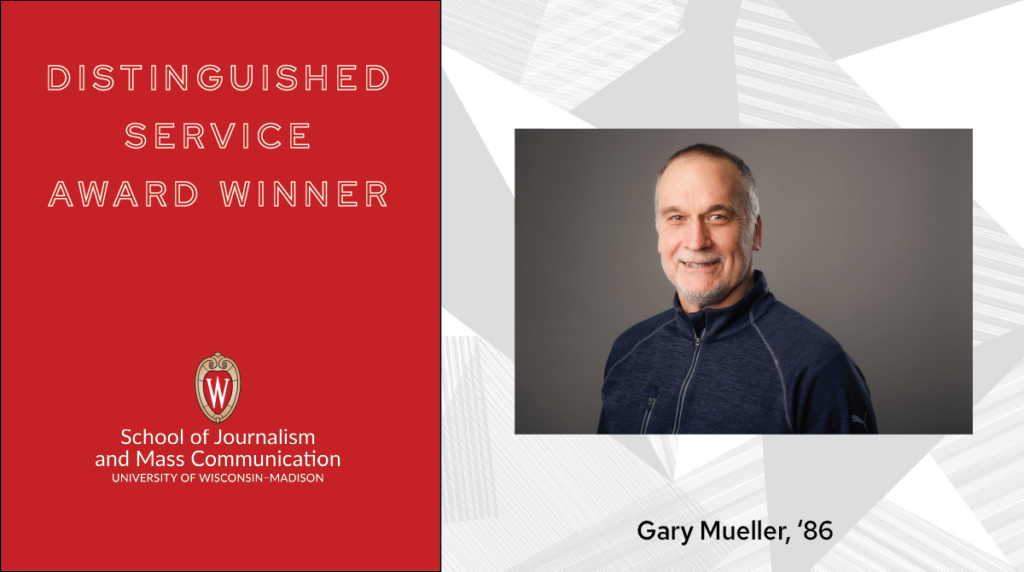 Gary Mueller is an Executive Creative Director at BVK and the founder of Serve Marketing, the country's only all-volunteer, not-for-profit ad agency. Gary's bold and provocative ad campaigns are featured in more than a dozen textbooks and his work has been lauded around the world. Gary is best known for his passion for giving back and has launched over 100 public service advocacy campaigns. Gary and the volunteers at Serve Marketing have helped to shine a light on over 75 crisis causes and donated over $20 million in in-kind services to underserved non-profits since 2003. See our infographic about Gary's career and commitment to public service.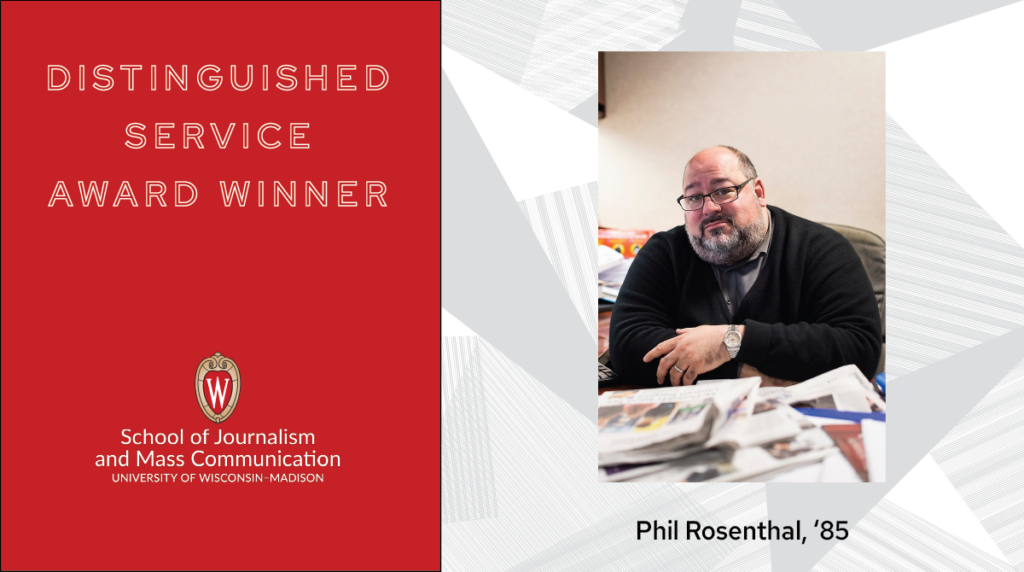 Phil Rosenthal is a former columnist for the Chicago Tribune, Chicago Sun-Times and Los Angeles Daily News. During his over 40 year career, Phil's work has taken him to multiple Olympics, Super Bowls, NBA Finals, Wimbledon, the Emmys, Oscars, MTV Video Music Awards, the camps of TV's "Survivor" and more. He has covered sports, media and business and contributed to several books. Phil is a former board member of the Television Critics Association and a past chairman of the UW-Madison School of Journalism and Mass Communication Board of Visitors. Read more about his career and lessons learned while at UW and the J-School.
James L. Baughman and Graduate Student Awards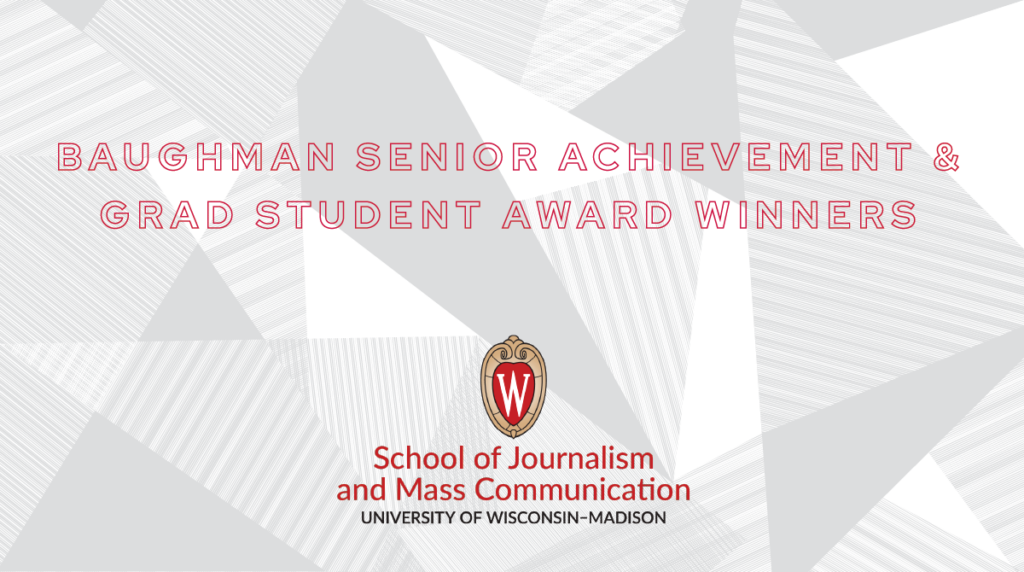 Our James L. Baughman Senior Achievement Award Winners and Graduate Student Award Winners are also being honored at the Alumni Awards Ceremony. See the full list of our 2023 recipients of these awards.