In Wednesday's keynote presentation at the Association for Education in Journalism and Mass Communication Conference, J-School Associate Professor and James E. Burgess Ethics in Journalism Chair Kathleen Bartzen Culver was presented with the 2020 Scripps Howard Journalism & Mass Communication Teacher of the Year Award.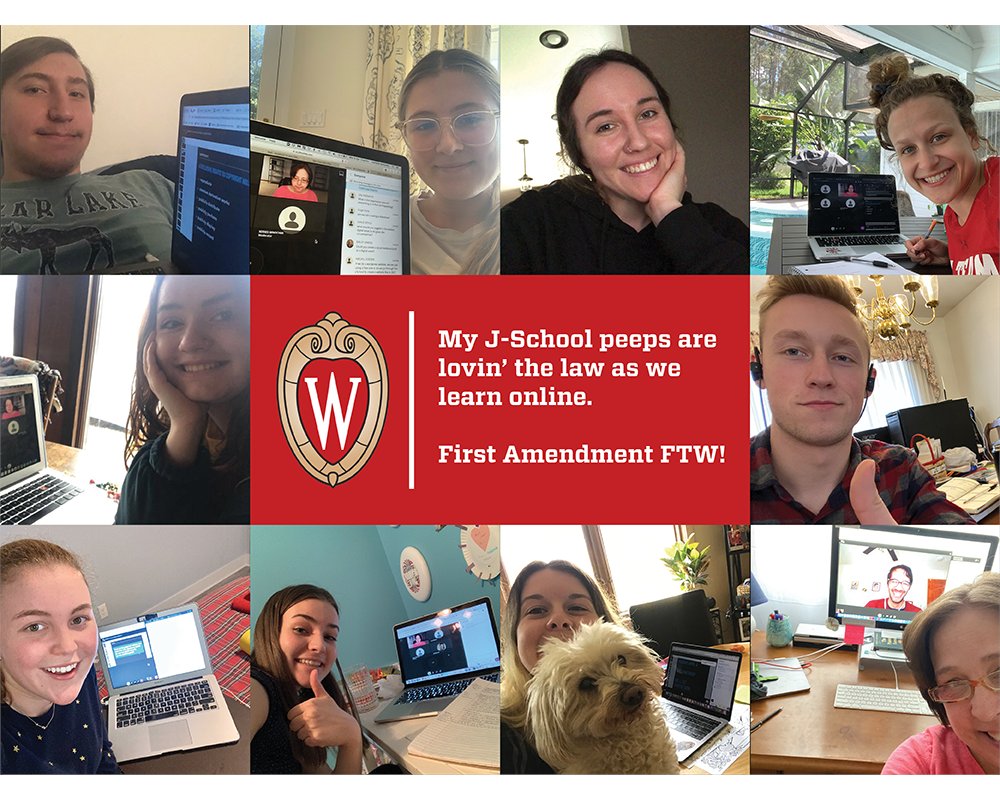 Culver earned this prestigious honor in one of the most challenging academic years ever for teachers and students alike. After the COVID-19 pandemic required courses to be taught fully online in March 2020, Culver led the way in developing remote course delivery options for the J-School, which put the department in a strong position to continue high-quality remote instruction during the subsequent semesters.
"The School of Journalism and Mass Communication was miles ahead of other departments when UW transitioned to all-online instruction in March of 2020, and we have Katy Culver to thank for our preparedness," said Professor Karyn Riddle. Culver received the school's Terry Hynes Leadership Award for her efforts in guiding faculty and staff throughout the transition.
Before joining the department in 1999, Culver completed her bachelor's, master's and PhD in the J-School. She is perhaps best known for creating the gateway skills course to the journalism major, J202: Mass Media Practices. The course incorporates elements of journalism, advertising, public relations and other forms of public communication. Students gain skills in social media, data analytics and critical thinking. Beyond J202, Culver also teaches courses on media law and ethics, graphic design and more.
"Katy knew, even before the era of Facebook, YouTube or Twitter, that to be successful in the journalism field, her students were going to need to have skills beyond just good writing and reporting," said J-School alum and former Facebook director Katie Harbath, who was a student in the very first year of the J202 curriculum Culver designed. "While the jobs I've held in online politics didn't exist when I was a student, every day I use the skills Katy taught me. This is a testament to how her teaching is not just preparing students for the present, but for whatever may come for the journalism profession in the future."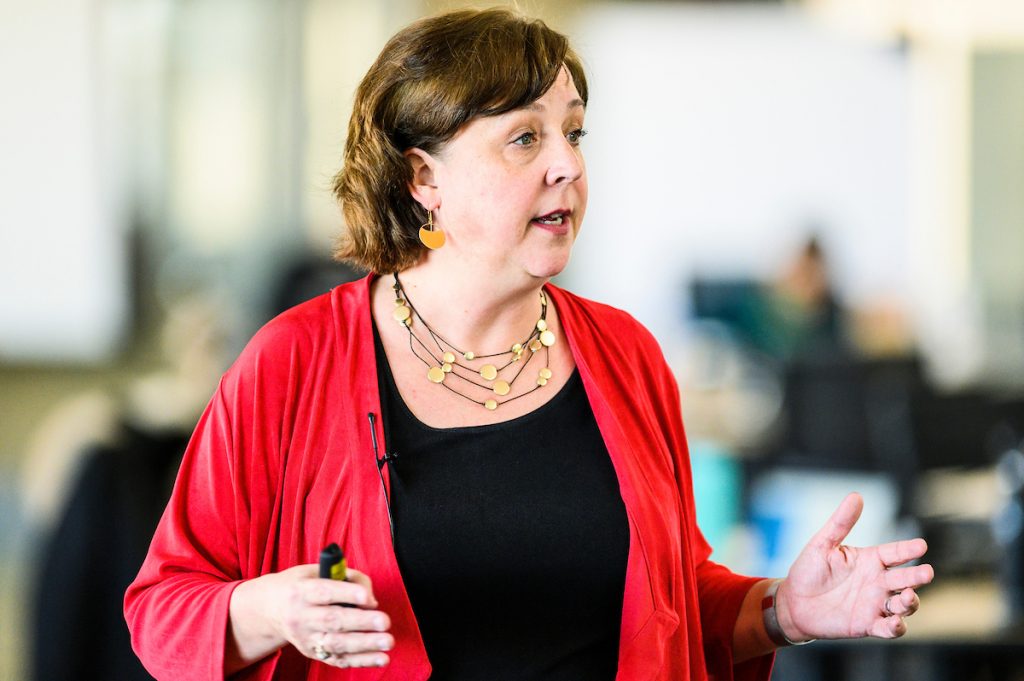 Culver is no stranger to receiving teaching accolades. In 2011 she won the UW System's Alliant Energy Underkofler Excellence in Teaching Award, and in 2020, she won the UW-Madison William H. Kiekhofer Teaching Award and the AEJMC Media Ethics Division teaching award. Her teaching and mentorship have reached thousands, including 3,200 students and 80 teaching assistants in J202 alone. She is constantly adapting her courses to the changing communication landscape and helping to prepare students for the future.
"I have never been more inspired by a professor in terms of deciding to pursue a field," said recent J-School alum Julia Zerull (BA'20). "[Her] class pushed me to think and apply myself in ways that I have not needed to before, and I feel like I've learned more in [her] class this semester than any other course I have taken at UW. [She] has hands down been the best professor that I have ever had here."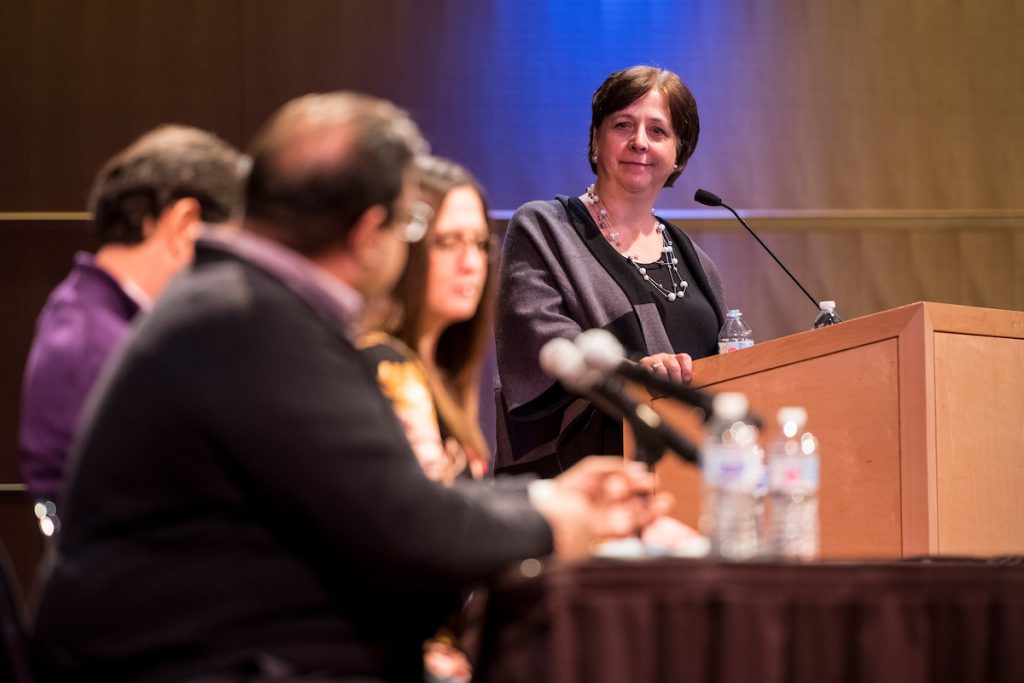 In addition to her teaching at UW-Madison, Culver is the director of the Center for Journalism Ethics. She was the founding editor of EducationShift, a grant-funded effort by PBS MediaShift to create content for communications educators. She has also been a visiting faculty member at the Poynter Institute since 2008. Her research, currently focused on ethics of public communication and free expression, directly informs her teaching and industry practices.
"Professor Culver's teaching excellence is evident across undergraduate and graduate levels of instruction, innovative course design, interactive lectures, engaging discussion leadership, public engagement and incomparable local, national and international mentoring," said J-School Director and Professor Hernando Rojas. "Perhaps more importantly, Katy's students feel seen by her. They trust her, work hard in her courses, learn from her and stay in touch with her long after they leave Madison."
Culver said while she is grateful for the recognition, she wants to emphasize that her success has been a group effort.
"From my wonderful family to my outstanding teaching assistants to my engaged and inspiring students, I have never once felt alone in tackling a teaching challenge," Culver said. "It's been my distinct privilege to do this work at UW-Madison, and I'm deeply grateful for this honor."