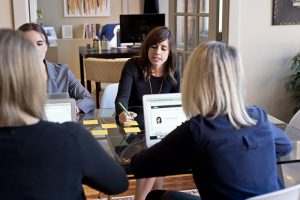 Fellow Badgers and SJMC graduates Alyssa Conrardy and Lindsay Mullen didn't know they shared an alma mater when they sat down for coffee in Chicago. They also didn't know they would one day cofound Prosper Strategies, a marketing consultancy for the non-profit sector.
Prosper Strategies was born four years ago, but even before they came together to start a leading firm, both women individually had small firms of their own. Eventually, they both realized their passion in working for good causes and Prosper Strategies was born. Prosper is a unique player in its field because it's committed to working exclusively with non-profits. Conrardy notes that this type of firm is rare, and from early on she knew she would need to start her own agency if she wanted one to exist.
As a graduate from the SJMC, Conrardy feels her time spent in Vilas Hall prepped her for the role she's in now. For her, being around other talented students pushed her to "level-up." She took internships and admits to even having the plan for Prosper Strategies in her back pocket while in college. But it was also the experience she gained in the SJMC that made her time at UW one that launched her toward success.
"I would say the biggest thing that was an asset to me from the Journalism School was just the real-world scenarios we were asked to work in and the real-world experience that our professors brought to the classroom," explains Conrardy.
The thoughtfulness of her actions has guided Conrardy in her career thus far. She and Mullen plan to expand Prosper Strategies in an intentional way, rather than growing their company for the sake of size. Her advice to graduates in the field also outlines intention.
"My advice would be to think long and hard about the impact you want to make in your career and choose the next steps you take," says Conrardy. "Be intentional about what you want to do. If you want to do good, go after that in the beginning of your career and don't wait."