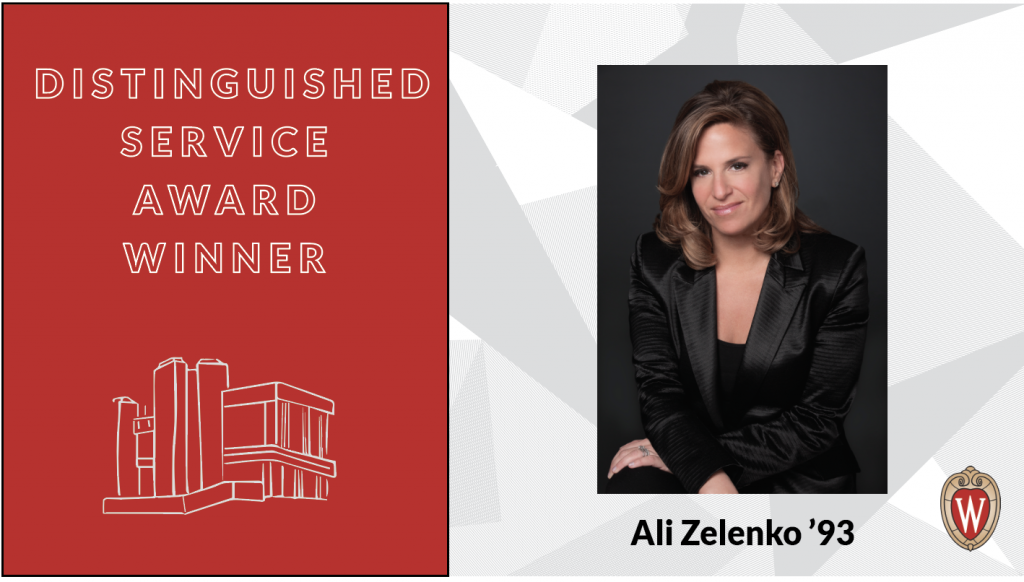 By Emily Knepple
Ali Zelenko, senior vice president of communications of NBC News, is a 1993 graduate of the School of Journalism and one of our 2020 Distinguished Service Award recipients. Zelenko credits the J-School with giving her the foundation needed for a career that has taken her from PR firms to CNN, TIME magazine and PEOPLE magazine.
Tell us about where you are today and the path you took to get there.  
I work at NBC News. I have spent the last 6.5 years running Communications for the broadcast news operation, and now I am taking a turn to run Strategic Initiatives for the News Group, which is exciting and daunting all at once. 
My path here was paved with press releases — I have spent my entire career in PR since graduating from UW's J-School. I started out at a few PR firms and then narrowed my expertise to news. I feel very fortunate to have worked for the strongest and best outlets in media: NBC News, CNN, TIME magazine, PEOPLE magazine. 
How did the J-School prepare you for life after college?   
J-School is everything. It is the complete foundation that I have built my career upon. It's where I learned to write in the way I need to do for my job, it's where I learned reporting skills — which serve you well no matter what career you choose — and it's where I first understood how journalists operate and think, which has served me so well since journalists are not only an external group I deal with regularly, but they are also my in-house colleagues. I have so many wonderful mentors to thank – Professor Hoyt, Professor Shah, Professor Sheila Reaves who inspired my love of magazines, and the late great Professor Baughman.
Is there any J-School advice you received that stands out? 
Never misspell a name! Professor Dhavan Shah would fail you in reporting class if a name was misspelled. To this day, I always triple check. 
What would you tell aspiring students today? 
Write, write, write. 
What does UW-Madison mean to you? 
 It is such a special place for me. It is where I came of age, it's where I developed my independence. It's where I learned to have an open mind about so many things. UW-Madison is definitely in my soul. 
Hardest J-School class you ever took? 
 The aforementioned Prof. Shah class! 
Hardest J-School assignment you ever had? 
I did my senior thesis for our beloved Prof. Baughman on Fatty Arbuckle, who was at the center of Hollywood's first scandal. It was a fun assignment, but labor-intensive and tough to research in a pre-internet era, if you can imagine that. And it certainly was a precursor to my working with high-profile talent who have had a few scandals of their own…
Best Madison hangout? 
The Terrace, of course. 
Favorite part of Vilas Hall?
I love all the content being done in the building, can't say I love the building itself. I was rooting for a complete renovation after the flood last year. Someone please start a capital fund!
Any funny anecdotes from your time in Villas?
Not funny, but most memorable: I came back a few years ago to deliver the Taylor Lecture at Prof. Baughman's request. It was in a strangely oblong room that was 100 degrees. Typical Vilas. But I couldn't have been happier to be with my people. It was the last time I saw Jim — it meant a lot to me that he came, he was not in good health at that point. And I was proud to learn that I drew a bigger crowd than the former baseball commissioner, Bud Selig. Good PR, I guess…