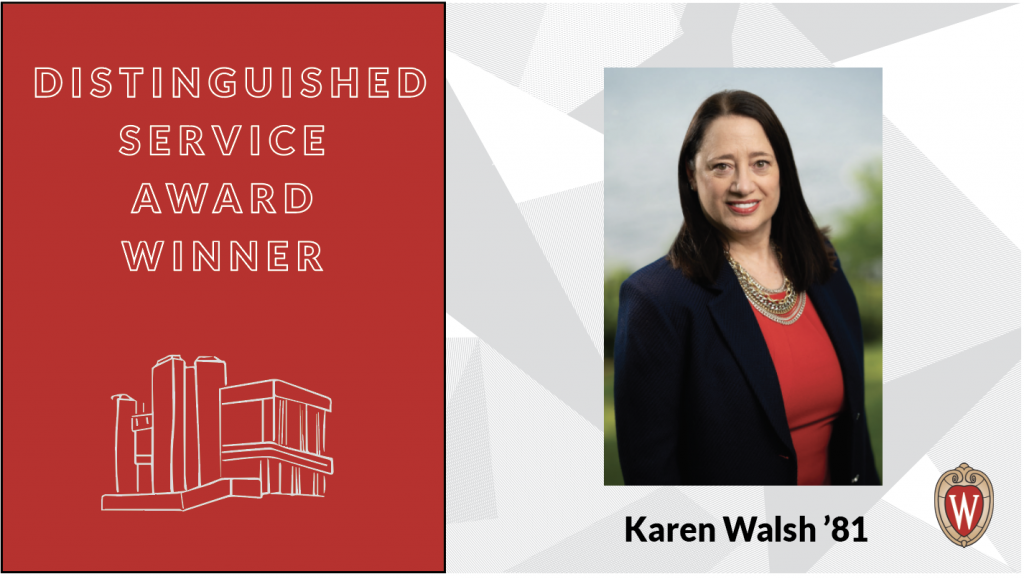 By Emily Knepple
Karen Walsh is a 1981 graduate of the UW-Madison School of Journalism and one of our 2020 Distinguished Service Award recipients. Walsh spent 23 years working for the University in public information and also has a background in reporting. 
Tell us about where you are today and the path you took to get there.  
In 2005, I retired from a 23-year career in public information at UW-Madison. Some of that time was as the director of broadcast services at University News Service, and the rest was at the College of Engineering. I worked as a reporter in college and at Wisconsin Public Radio for a year or two after. I loved the challenge of traditional journalism — that's what I trained to do. But I made the transition to public information because it was a new challenge — and, frankly, it paid more and offered benefits. (Also, I didn't have to get up at 3 a.m. for a morning drive newscast.) I've never regretted it. I continue to admire good reporting and was honored to have a career helping reporters do their work.  
How did the J-School prepare you for life after college?   
It prepared me in more ways than I can count. The most important was learning how to think critically, analyze an argument and synthesize information quickly. I learned how to ask probing questions and to do my research before talking to people. Good listening skills were critical — this serves you professionally and personally, wherever you go in life. Writing is a craft, and good writing takes constant work and a willingness to edit and be edited.  
Is there any J-School advice you received that stands out? 
Without a doubt, this advice from Professor McNelly: Don't ask the next question right away. Let the subject's answer trail off while you take notes. People will move to fill an uncomfortable silence, and you can get some of your best information that way. Show that you are listening — we all respond to that. Also, he once handed a story back to me and advised me to "kill the babies." He meant I had too many extraneous, marginally interesting factoids crammed into the piece. He correctly realized that I was attached to their "importance," and he pounced on it. The material was distracting and made for a weak story. During my years as a communicator at the university, I gave that advice to many of my staff writers. I think of him fondly whenever I recycle that advice. 
What would you tell aspiring students today? 
Be flexible and open to opportunities. Where you end up in your career may look nothing like what you had planned. Understand that this is OK. I thought I wanted to be a television anchor when I got into J-School. By the time I finished, I figured out that this wasn't me at all. And really, what does "end up" even mean in the world of today's careers? People move around so much more and the digital world has created opportunities no one thought of when I was an undergrad. Realize that you will leave journalism school with practical, crucial skills. Chances are, you'll be able to write circles around everyone else competing for jobs where the ability to communicate is vital. Don't discount it — it's one of the most valuable things you can offer an employer. 
What does UW-Madison mean to you? 
The university was where I grew up intellectually and personally. It's where I learned to think and communicate clearly. This is true both of my time as a student, and as a professional. I met amazing people — lifelong friends, researchers doing incredible work, inspiring students and staff…and it's also where I met my husband. Anything I've been able to do professionally is due to the excellent education and opportunities I've received there. I serve now on the Vet School advisory board and on the UW System Board of Regents. I'm honored to give back to a place that gave me so much. But, truly, no amount of service is a big enough "thank you."  
Hardest J-School class you ever took? 
Hands down, that would be Mass Comm Law with Professor Bud Nelson. He was smart, demanding and suffered no fools — he expected us to study the material as if we were in law school. I learned so much, but I lost a fair amount of sleep doing it. It was the class that taught me to appreciate coffee, something that came in handy when I was in morning radio. Incidentally, I was in this class on March 30, 1981 when President Reagan was shot. Professor Nelson announced it to us as class was starting. (Keep in mind that there was no internet then. How he knew, I have no idea. We all thought he might cancel class. Not a chance.)  
Hardest J-School assignment you ever had? 
It was a story on the evolution of breast cancer treatment that involved interviewing a patient who had the disease back when they were still doing radical mastectomies. They don't really do these anymore, because it involves removing the muscle wall from the chest as well as the breast and lymph nodes. You can imagine the physical complications. I had to be thorough yet sensitive to this woman's experience and I didn't have enough medical background. In other words, I hadn't done my research. Her kindness to a student reporter is something I'll never forget. 
Best Madison hangout? 
The Memorial Union and the Terrace. Where else? 
Favorite part of Vilas Hall?
The old Journalism Reading Room. Back then, there were no electronic articles or internet. Research meant going through piles of mags, newspapers and journals — the old-fashioned way. The reading room had all the journalism and communications materials right there. It was my favorite place to study — quiet and excellent staff to help. 
Any funny anecdotes from your time in Villas?
Probably it was my lesson on using the passive voice in J205. McNelly liked to put our stories up on an overhead projector to critique them in front of the whole class. (Thankfully he blacked out author names.) My doozy involved a story I did on a large statue of several individuals, male and female, that was erected behind the old Madison Civic Center. I'm not going to spell it out — most journalists and wordsmiths I know could easily figure it out.