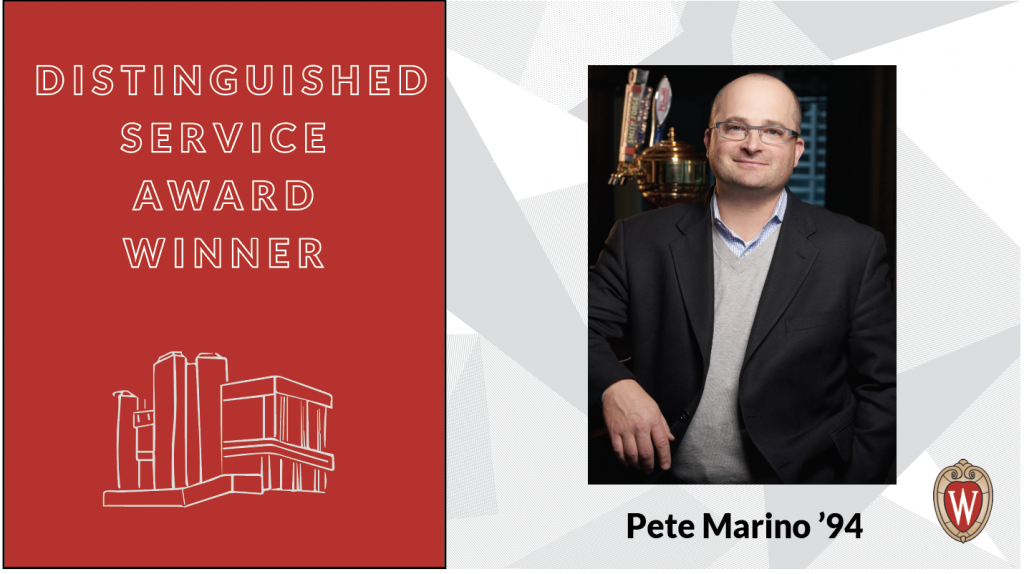 By Colleen Muraca
Peter Marino, president of emerging growth for Molson Coors Beverage Company, is a 1994 graduate of the School of Journalism and Mass Communication and one of our 2020 Distinguished Service Award winners. As an undergraduate in reporting classes, he never envisioned marketing craft beers or Clearly Kombucha. But now he says he uses the skills he learned in the J-School every single day.
Tell us about your career path.
Upon graduating from UW in 1994 with a journalism degree, I moved back home to Milwaukee and went to work for an integrated marketing agency, Cramer-Krasselt. I spent about 18 months there before moving to Chicago to work for a top-five PR firm called Ketchum. From there, I went to work for Miller Brewing Company in Milwaukee as a brand PR manager.
After gaining some real-world experience, I then decided to go back to school and moved to Los Angeles to get my MBA from UCLA. I stayed in LA after graduating and went to work as a strategy consultant for the Boston Consulting Group. At that point, I made a big move and decided to move back to Chicago with my wife and 1-year-old son to start a new digitally native PR agency called Dig Communications. I spent the next seven years building Dig and expanding it across the country before selling it to a Minneapolis firm called Olson.
I spent nearly 18 months integrating Dig into Olson and then left in 2012 to join my client, MillerCoors, as VP of communications. From there I was promoted to chief communications and government affairs officer. And, finally, about two years ago I became president of Tenth and Blake, our craft and import division. I recently got a new job as president of Emerging Growth and am responsible for our craft beer division, cannabis beverages, non-alcoholic beverages, wine and spirits, M&A and our international business in Latin America and the Caribbean.
Being an entrepreneur and starting and selling Dig was such an exciting, scary and rewarding time. I love my current role and I have loved every single one of my jobs, but nothing gets you out of bed every morning quite like being responsible for payroll and the livelihood of 60+ employees. 
What are you focused on right now?
Today, I am in the process of transforming into my new role, president of Emerging Growth for Molson Coors. I am focused on developing the next wave of products that can propel our company into the future. For more than 150 years, we have been known for developing and selling some of the most iconic beer brands in the U.S. and around the world. While those brands are critically important to this day, we are looking to broaden beyond beer, and I am tasked with overseeing our future growth segments. I am excited to get going.
What lessons from your J-School education helped you in your career? 
The two things that have helped me immensely are: one, clear and effective communication, and two, thinking like a reporter. Both are critical to how I operate in the business world. I use my reporting skills nearly every day to gather and piece together information. I strive for undeniable accuracy, and I seek to clearly communicate with my teams every day.
What other activities were important to your time at UW?
I wrote for the Daily Cardinal and it was an awesome experience. I covered sports, which was a passion of mine, and being able to cover Badger athletics for a great college paper like the Daily Cardinal was a great experience. I had stories to pitch, deadlines to meet and needed to navigate working with many different people to get my work done. 
If you were to look back and give your college self a piece of advice, what would it be?
Take advantage of time with your professors and other guest speakers on campus and make long-lasting connections. They have great experience and perspective, and students should soak up these opportunities on campus. Similarly, capitalize on every networking opportunity to make a connection with someone. Investing in networking the right way will pay off in so many ways. Make networking a habit while on campus and you will benefit from it for the rest of your life. Finally, never, ever burn a bridge. I am always amazed how paths continue to cross in unexpected ways, and you always want to make a positive impression on someone. Burning a bridge may feel good in the moment, but it's never worth it. 
How has a J-School degree been important in your current work?
I think a journalism degree is great for business people as being able to clearly communicate is a necessity for any business leader. A journalism degree teaches you to communicate clearly, effectively and accurately. It teaches you to be comfortable with the unknown and to seek the common narrative thread. It's fantastic training for business leaders.
What does UW–Madison mean to you?
I owe so much to my time on campus. Being a Badger was a wonderful period of growth in my life. I loved being a student there and returning to campus always feels like a homecoming. There's no question, Madison made me a better person and helped set me up for success throughout my life. On Wisconsin.
Hardest J-School class you ever took?
I took a First Amendment class with Professor McChesney that I recall was tough but very interesting.
Hardest J-School assignment you ever had? 
The best thing about the J-School was that every assignment was challenging and stimulating at the same time.
Best Madison hangout? 
In the spring and summer, nothing beats the Union Terrace. During the fall and winter, State Street Brats was always a great place to hang.
Favorite part of Vilas Hall? 
I loved the Daily Cardinal offices.  It was tucked away in the basement, but it was undeniably our spot and we got some great work done there and had a lot of fun in the process.
Any funny anecdotes from your time in Vilas?
For as much time as I have spent in that building, I still get lost nearly every time I set foot in there.  I don't know if it says more about me or the building!