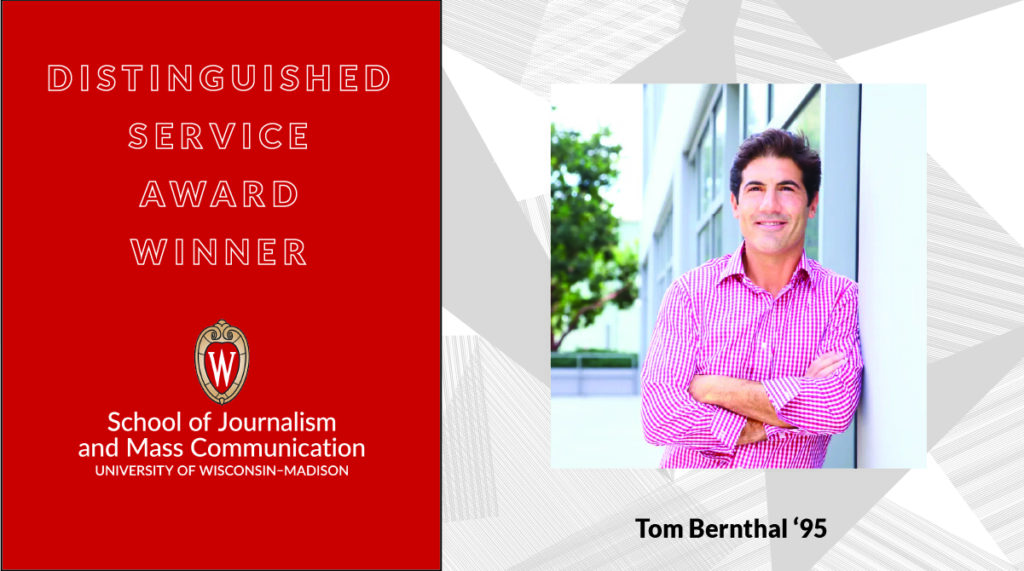 By Emily Knepple
Tom Bernthal is a 1992 J-School graduate and founder and ex-CEO of Kelton, a marketing, research and strategy consulting agency. Throughout his career, Berenthal has won three Emmy awards for his news work at NBC News. His time at the J-School taught him how to be an effective communicator and a strong writer. 
Tell us about your career path.
My career was a bit of a long and windy road. I started during my time at Madison, interning at NBC News and The White House over the summers. And that set me up for what became my career. It gave me exposure to politics and journalism and curiosity and research. When NBC and Microsoft partnered to create MSNBC, they called me to join the launch team because of the impression I made that summer. I spent my first few years at MSNBC and CNBC and eventually, at the network. I won three Emmy Awards for new coverage. And I learned how to understand people, synthesize many pieces of information, form narratives, and tell their stories. This was taught in my classrooms, and really came to life. I left NBC to start Kelton, which was all about helping companies and organizations understand human stories. Fifteen years later, we were hundreds of people–many journalists and ex-journalists—serving the biggest brands and most exciting companies in the world. I sold Kelton, and have been investing and mentoring entrepreneurs since. 
What are you focused on right now?
Mostly, I'm focused on helping start-ups and interesting, innovative companies find their calling, customers and voice. This ranges from a real estate company that is creating affordable housing and access to retail in underserved parts of Los Angeles, to a travel app that helps people book based on their desired way to spend time, to a social media influencer management platform. But I spent a decade and a half making big companies bigger. Now I'm using the skills and lessons learned working for Nike, Harley-Davidson, Facebook, Uber and so many others, and applying them to helping start-ups innovate.
What lessons from your J-School education helped you in your career?
Amazingly, even though I ventured pretty far from journalism, really knowing how to write and communicate was the key to nearly all my success. There's just no more important skill in work life. At the end of the day, we're all trying to explain or convince others of a certain viewpoint. Whether you're selling or creating or managing, no matter how good your idea, it's not going to make an impact unless you can clearly articulate it to others, and enable them to see its wisdom. It's not always the best ideas that win; it's often those best communicated. That's journalism.
What other activities were important to your time at UW?
I shouldn't admit this, but I wasn't that into school or class. I was deeply interested in the real world, and working, and practical application of learned skills. So, I spent my time hanging out at The Daily Cardinal, at The Badger Herald, at Gametime (a sports and entertainment newspaper that I founded) and learning entrepreneurialism through and around journalism. Oh, and playing a lot of basketball!
If you were to look back and give your college self a piece of advice, what would it be?
Writing. It's everything. It's not journalism, or English, or communication. It's everything we do. Even in a world that has largely lost quality writing as a pre-requisite to the work world, it makes such a difference in so many aspects of life. I got my jobs by writing great emails to potential bosses. I got clients by writing compelling pitches to companies. I even am getting married to a woman who I traded love letters with in the beginning, the old fashioned way. Well, they were electronic. But old-school prose!
How has a J-School degree been important in your current work?
See above. Communicating remains so important to what I do. Even today, while mentoring, I'm of no value to a company or entrepreneur I work with unless I can clearly hear and understand them, and communicate my thoughts and ideas to them.
What does UW–Madison mean to you?
My kids are now looking at colleges so I'm really seeing the differences between schools in a way I probably never did. Madison is just a wonderful community. It seems everyone loves it, and it's got a bit of a challenger mentality when you get into the broader world. In Wisconsin and even Chicago, people who went to UW are the norm. But when you get to NY and LA and even the world, you meet someone and you have a connection from moment one. We took a road less traveled to get where we've gotten. And it gives us grounding and perspective and a sense of what America is like between the coasts, and the world is like as a melting pot of those who are smart, scrappy and determined.
Best Madison hangout?
Camp Randall, of course. But not sure that's what you mean. And the Union Terrace is too easy and cliché. I spent a lot of time downstairs at Bullfeathers.
Favorite part of Vilas Hall?
The Cardinal offices. Not even close.