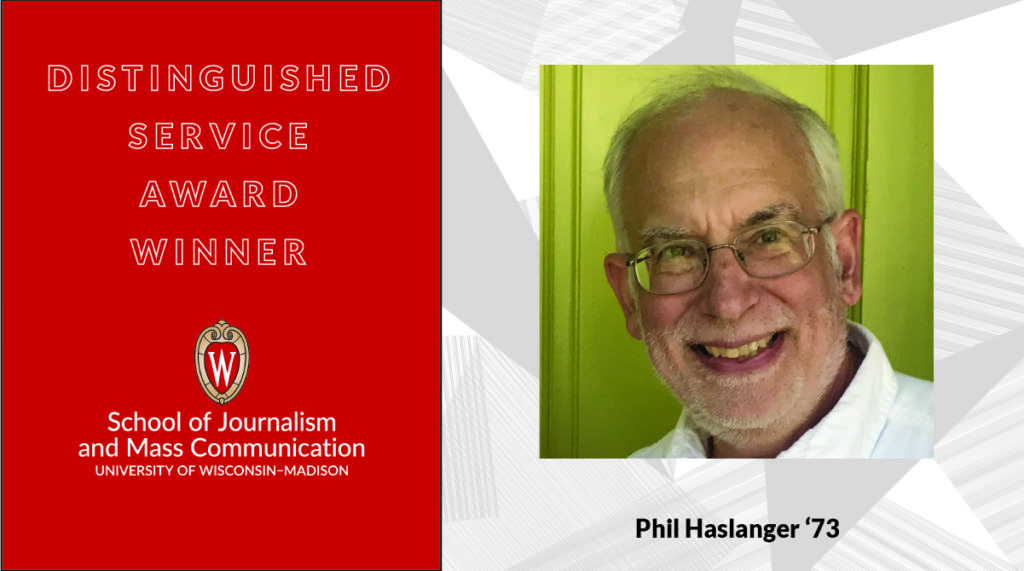 By Emily Knepple
Phil Haslanger received his master's degree in journalism in 1973. After a long career in journalism including editing roles at The Press Connection and The Capital Times, he became an ordained minister in the United Church of Christ and pastor at Memorial UCC in Fitchburg. He continues to maintain his connections to journalism as chair of the Center for Journalism Ethics' advisory board and the Fitchburg Star editorial advisory board. In 2021, Haslanger was inducted into the Wisconsin Newspaper Association Hall of Fame.
Tell us about your career path. 
My career has taken some twists and turns over the years, but the through line has been connecting with people and writing about those connections. My undergrad degree at UW was in sociology, learning about how people function in society.  
I wrote for The Daily Cardinal and covered the 1972 presidential campaign (the first one where 18-year-olds could vote)  making it a big deal on campus. I also entered the master's program in journalism. While I was still in J-School, I started working at The Capital Times part time in January 1973, covering Paul Soglin's first election as mayor of Madison.  
I was at the Cap Times for 34 years, except for being out on strike for a year-and-a-half in the late 1970s working for the strike paper, The Press Connection, and then in the Capitol. After going through several editing positions at the paper after the strike—city editor, editorial page editor, managing editor—I made a big career shift to being ordained as a United Church of Christ minister. I still did a column for the Cap Times and later served on the board of the Religion News Service, continuing to straddle that wonderful divide between skepticism and belief. 
What are you focused on right now? 
I'm retired (allegedly) so I get to do a wonderful variety of things. At the top of the list is serving on the Advisory Board for the Center for Journalism Ethics. I am also on the board of JustDane, that works helping formerly incarcerated people restore their lives in our communities and provides post-hospitalization care for people without homes. I facilitate a couple of clergy support groups, preach now and then at local congregations and—duh—follow the news with great interest. Besides that, I get to be a husband and dad and grandfather which makes for a very rich life. 
What lessons from your J-School education helped you in your career? 
Among the two most important classes I took were the Law of Mass Communications and the Literary Aspects of Journalism. I had a chance to learn to write on one of the first word processors in the J-School, which helped me learn how to adapt to ever-changing technology. I made connections with students and faculty that formed networks well into my future. 
What other activities were important to your time at UW? 
I participated in many non-violent protests against the Vietnam War. I loved the opportunity to go to concerts, to play music and to hear amazing guest speakers. I helped start a center for runaways (Briarpatch) and was very active at St. Paul's University Catholic Center.  
If you were to look back and give your college self a piece of advice, what would it be? 
If you pick the right classes with good professors, you can learn a lot. But for journalism, take a wide range of classes that touch on other interests—maybe history or political science, maybe data science or biology. And then report and write in whatever venues you can find outside the classroom. 
How has a J-School degree been important in your current work? 
My journalism degree provided the foundation for so much of what I did at the Cap Times over the years—the basics, the critiques, the reference material, the exposure to journalism well beyond what I had known growing up. 
What does UW–Madison mean to you? 
A world-class education in an amazing setting with a wide variety of options for social life.  
Hardest J-School class you ever took?  
Must have blocked out any memories of that one.
Hardest J-School assignment you ever had?  
Writing a major paper on the emergence of cable television. Lots of research required and high expectations from the professor. 
Best Madison hangout? 
Memorial Union 
Favorite part of Vilas Hall? 
Daily Cardinal offices 
Any funny anecdotes from your time in Vilas?
For a class in the spring of 1973, a group of us had to write, edit and lay out a four-page broadsheet newspaper called Snowbound. Nothing unusually funny about that at the time. It's the looking back on it. Each page of the newspaper was 17.5 inches wide and 28 inches high – enormous by today's standards. On the back page was a photo essay about the Engineering School's annual expo, including a picture of an electric car. Among the headlines: "City's women pages: change is here" and "An Old Patriot Mourns America: Declares Madison A 'Hippy Town'. Also, "Battle of the swim suits takes new twist" – a follow-up on a story in a previous issue over the dispute over men-only nude swimming in the pool in the Red Gym. It is never dull on campus.