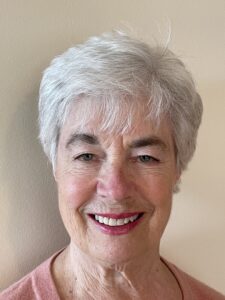 When Sharon Stark first began considering what she wanted to study in college, she wasn't sure what direction to take. When browsing a list of majors, she stumbled upon journalism, and thought it sounded like a good fit. She had always enjoyed writing in school, particularly poetry.
Upon arriving on the UW–Madison campus and taking some challenging lab science courses, her grades kept her from getting in to the J-School. But Sharon didn't let this setback stop her from beginning what would become a long and successful career as a magazine editor, a writer and marketer. After deciding on a political science major, Sharon didn't stray too far from the J-School and took journalism classes where she could.
After graduating and beginning her career, she eventually teamed up with her husband Peter Livingston to co-found a company dedicated to helping credit unions communicate their mission to their members. She continued writing about personal finance, often by sharing stories of how credit unions helped members save money.
Once she retired, Sharon shifted her focus to philanthropy. She recalls attending the symphony or visiting museums and seeing the names of the donors and supporters on display and thinking one day she'd like to be among them. She spoke with Martha Taylor of the University of Wisconsin Foundation and Alumni Association, who she calls the "grandmother of women's philanthropy" and formed a plan to focus her philanthropy on her interests.
Sharon's career in consumer finance made her interested in supporting the School of Human Ecology, which houses the Personal Finance major. Her commitment to supporting UW's mission and its students led her to contribute to the Chancellor's Fund. And after taking journalism classes and developing an interest in investigative journalism — Bob Woodward and Carl Bernstein were her heroes — Sharon wanted to support the School of Journalism and Mass Communication.
Her first philanthropic effort in SJMC was creating the Sharon Stark Investigative Journalism and Internship Fund. She says while many donors aren't involved with the recipients of their gifts, she wanted her philanthropy to mean something to her while she was alive.
"It's meant a lot to me; it's exactly what I wanted to do" Stark said. "I love meeting the students and I love the interaction. I was on the Women's Philanthropy Council at UW for six years and they encouraged us to attach a name to a gift and give during your lifetime. It's a large part of the satisfaction, to be involved."
More recently, Sharon wanted to do more for SJMC by way of an estate gift. When she asked how the department wanted to be supported, they suggested a professorship in her name. While she could hardly picture the idea at first, she quickly began to get excited about the idea as the vision took shape.
As news consumption habits change and consumers aren't always getting in-depth, accurate news, Sharon saw a need to make an impact.
"All of that has to be changed, or this country doesn't survive," Stark said. "We need a journalism revival."
One of her goals for her gift is to create a world-class investigative journalism school. In her professorship, she would like to see someone hired who has been or is still working as an investigative journalist. She specified the individual should do practical application research, and hopes they can help give journalists the tools to vet news stories and access fact-checking algorithms.
Sharon reiterated her passion for philanthropy and the importance of being able to see the impact of her work during her life and beyond.
"One of the things I want to emphasize is the idea of philanthropy while you're alive. Because it is fun. It's been one of the most meaningful things I've done in my life," Stark said. "When you're doing it for the University, you're looking at the future and you can have an influence on what happens at some point when you're not around. It's a legacy, and legacies are powerful."