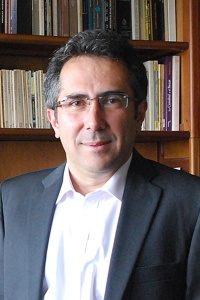 At their virtual conference this week, the International Communication Association (ICA) announced Hernando Rojas, Director of the University of Wisconsin School of Journalism and Mass Communication and Helen Firstbrook Franklin Professor of Journalism has been selected as an ICA Fellow. 
ICA Fellows are recognized for their distinguished scholarly contributions to the broad field of communications. Rojas's scholarship focuses on political communication and examines topics such as the deployment of new communication technologies for social mobilization in a variety of contexts, the influence of audience perceptions of media and media effects on both public opinion and the structure of the public sphere, and the conditions under which media support democratic governance. This focus is evident in his teaching as well as his publications, which include five books and over 80 articles and book chapters. His research has won awards from ICA, the World Association for Public Opinion Research (WAPOR) and the Association for Education in Journalism and Mass Communication (AEJMC). 
"This is a great honor for me, but it mostly speaks to my mentors, colleagues and students who have made my academic career possible, fun, and, hopefully, contributing some to social development," Rojas said.       
Rojas joins four other ICA Fellows on the SJMC faculty: Professor Emeritus Sharon Dunwoody, Professor Doug McLeod, Professor Emeritus Jack McLeod and Professor Dhavan Shah.  
"The distinguished career of Professor Rojas has elevated him to the status of ICA Fellow," said Doug McLeod, Evjue Centennial Professor and ICA Fellow. "He is a most deserving recipient of this award, which recognizes him as an elite scholar in the field of communication. I am proud to call him my colleague." 
The University of Wisconsin – Madison is also home to four other ICA Fellows, three from the Department of Life Sciences Communication and one from the Department of Communication Arts. With nine total ICA fellows, UW-Madison is among the best–represented institutions in this prestigious group of nearly 200 Fellows worldwide.  
"Professor Rojas is a leading theorist of communication practices and perceptions," said Dhavan Shah, Louis A. and Mary E. Maier-Bascom Professor and ICA Fellow. "He has not only helped establish and advance communication and public opinion research, writ large, he has also dedicated himself to student mentoring and scholarly service, both inside the University of Wisconsin and at various academic associations."