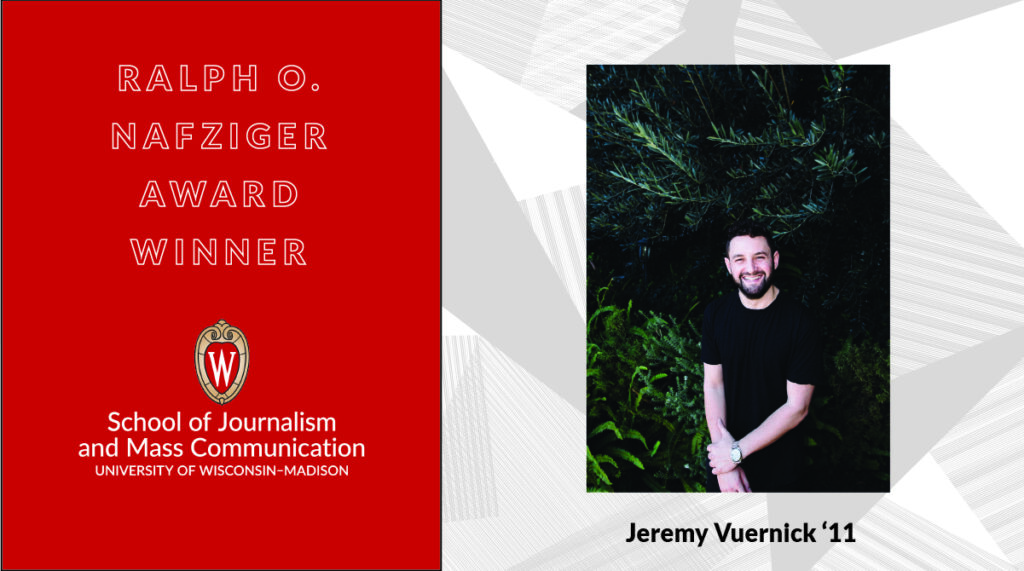 By Emily Knepple
Jeremy Vuernick is a 2011 J-School graduate and was recently named President of A&R at Capitol Music Group. He is the 2022 recipient of the Ralph O. Nafziger Award. Throughout his career, Vuernick has worked predominantly in the music industry and most notably, he is responsible for signing and developing Grammy nominated, multi-platinum artist Halsey. His time at the J-School prepared him to think critically and communicate effectively. 
What is a project that you've worked on in your career so far that you are most proud of?
Throughout my career, I have been lucky enough to work across several exciting projects, ranging from commercially successful records which have sold millions of copies around the world to critically acclaimed bodies of work which have helped to shape culture. If I had to narrow it down to one, I would have to say it was Halsey's most recent album, 'If I Can't Have Love, I Want Power'. Written entirely and solely by Halsey (a rarity for a pop artist in today's music industry), the album was executive produced by Nine Inch Nails' Trent Reznor and Atticus Ross. A concept album at its core, it reached number one on Billboard's Album Chart, received rave reviews across the board and was nominated for a Grammy for Best Alternative Album. Of all the incredible artists I've had the chance to work with, I have been with Halsey since day one, which has made this project a truly special thing to be a part of.
What is the best advice you have for a J-School student who wants to do what you do?
Don't wait. Find something you love and create an opportunity for yourself to be involved with it. In this business especially, it's important to have an entrepreneurial mindset. If you want to be in the music business, spend times at shows. Meet artists. Study your favorite records and educate yourself on the players involved. As is with any business, sometimes you need to force the door open; once you do, make it count.
When we say 'J-School,' what do you think of? 
Preparedness. The J-school prepared me for anything that may have been thrown at me. It gave me the ability not just to write, think critically, analyze and create; it gave me the ability to communicate. It's helped me to work better with my peers and superiors, relate to and understand artists and creatives, and think about how people consume art, in my case, music.
Check out this playlist of artists Jeremy has worked with during his career!