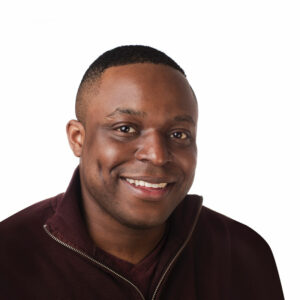 Name: Bassey Etim
Title and Organization: Editorial Director, CNN Personalization
Graduation year and degree: 2008, Journalism and Political Science
After graduating from the J-School, Bassey Etim (BA'08) has had a remarkable career in journalism, beginning as a Community Editor at the New York Times and more recently taking on an Editorial Director role at CNN. The recipient of the 2017 Ralph O. Nafziger award for achievements within 10 years of graduation, Etim shares his memories and how the J-School helped him get to where he is today.
When it comes to your work, what are you most proud of?
I came into the national news business right after college, very much believing I would spend my career as an intrepid reporter. But seeing the industry from the inside, I saw that there were a lot of opportunities to help make this a healthier business that's better at connecting with digital audiences. A lot of people can write very well, but in my strategic thinking, I was more unique.
So, I think the work I'm most proud of is some of my earliest work at The New York Times: advocating and helping to implement a journalism that centers the reading audience. With this approach to journalism, we see a positive feedback loop where journalists learn about what their audiences need, what they understand and what needs clarification. And on the audience side, we demystify the practice of journalism and help teach folks what kinds of questions a journalist can help to answer.
More recently, I had the opportunity to create the interaction design for Interview Club on CNN+. News organizations are fast becoming digital businesses that rely on subscriptions, but journalism products are a lot different from a typical streaming service. In some ways they're more like a modern video game in that strong communities are necessary for the audience to form a tactile connection with our work. So, if our goal is to offer more context on the news in Interview Club, then our interaction design should speak the same language and offer more context on why we've approved certain questions, how to make them more likely to be selected and why questions were rejected in moderation.
What's the best advice you have for a J-School student who wants to do what you do? 
Remember the first principles of your mission: to inform the public, promote a healthy society and protect the practice of democracy that makes journalism possible in the first place. When you look out at the entire world or just a single organization, ask yourself what YOU can do to best fulfill that mission right here, right now. I don't know if that will lead to exactly what I'm doing, but it's the question I'm always asking myself.
My career has had a lot of twists and turns, from politics to online communities, internal journalism tools, newsroom R&D, live reporting, and now machine learning. I made every change when I decided that there's more I can do to help, however comfortable I am, or whatever my ambitions were at the time. If you put service first, and you keep at it, I really do believe that people will notice.
What is your favorite J-School memory?
My favorite memory, honestly, is the first day of a class, I believe the professor was Katy Culver, and she showed us the New York Times reporting on the Emancipation Proclamation. It was a terrible article that missed the entire point. In fact, I still use this example to help teach machine learning engineers and product managers about journalism. She gave us most of the class period to re-write the brief, with a particular focus on the lead.
I always thought of myself as a hot-shot writer (and I still do!), but that day was incredibly humbling. I just couldn't figure out how to do it in the time allotted. I understood the shortcuts I could take, but my brain was not trained well enough to know how to use them. I produced basically nothing but a page of crossed-out notes. I like to think that was the start of my obsession with perfecting this craft – I really saw the inner workings of this art for the first time and I wanted to master them.