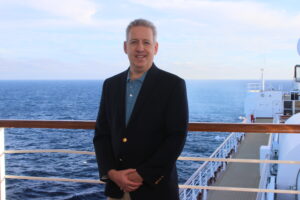 Name: Bill Zucker
Title and Organization: Vice President, Public Relations and Communications, Holland America Line
Graduation year and degree: 1986 BA in Journalism and Political Science
After completing the former broadcast news track in the J-School, Bill Zucker started in broadcast news on air at WTMJ Radio in Milwaukee. He later switched to TV producing, including working as a producer at WABC-TV in New York and executive producer at WBBM-TV in Chicago. He then made a mid-life career transition to PR at agencies Burson-Marsteller and Ketchum, where he ran the agency's Chicago office. Late last year, he began a new role leading PR/Communications for Holland America Line. We caught up with him to hear more about his career journey.
As you start your new role at Holland America Line, what are you most proud of from your career? 
Two moments stand out for me. The first is the transition I made after 15 years in the news business to public relations. I didn't take a single PR class at the J-School and found myself learning a new career on the fly. I quickly found that skills gained from school and the newsroom were perfect building blocks as long as I was willing to evolve my approach to a very different setting.
The second moment came with the arrival of COVID-19. I had clients in the retail space who were hurting and deeply challenged by an unprecedented situation. It was a moment where I saw the value of our counsel come through, not just as a PR person but a business consultant. The ability to help a business recover and grow while also strengthening its reputation was professionally fulfilling.
What's the best advice you have for a J-School student who wants to do what you do?
Get your hands dirty in every aspect of journalism and communications possible. Every experience matters and builds toward success in communications. For me, reporting and then producing broadcasts under deadline taught me skills that made me a stronger leader and more effective crisis communicator. If you get a new job or internship, don't wait to be asked for help, push to do more. Find a mentor and insist on trying new skills. I wrote about my advice for interns while I was at Ketchum and it really applies to any job setting.
When we say "J-School," what do you think of?
I always think of my two favorite professors and how they embraced the concept of helping me learn and explore in two very different ways. After inspiring me in J201: Intro to Mass Communication, Jim Hoyt became a mentor, helping me figure out ways to learn beyond the classroom and get a jumpstart in broadcast news. And the late Jim Baughman taught me the value of research and investigation in an unexpected way, thanks to his seminar on Henry Luce and the book that came from it. He urged me to spend weeks in the stacks of the Wisconsin Historical Society, reading everything that existed on Luce's treatment of Joe McCarthy, to tell a truly fantastic story. It was the opposite of reporting a 45-second radio news story and showed me the spectrum of the power of communications and patience.