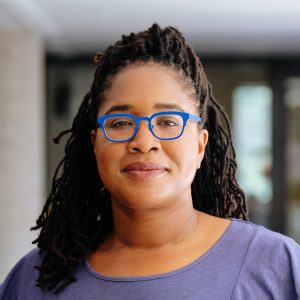 Name: Jasmine McNealy
Title and organization: Associate Professor & Associate Director of the Marion B. Brechner First Amendment Project, University of Florida
Graduation year and degree: 2002 BS in Journalism and Afro-American Studies
For Jasmine McNealy, getting her undergraduate education at UW-Madison SJMC was just the start of a remarkable academic career. She went on to receive both a Ph.D. in Mass Communication with an emphasis in Media Law, and a J.D. from the University of Florida.
She is now an Associate Professor in the Department of Telecommunication within the College of Journalism and Communications at the University of Florida, studying information, communication, and technology with a view toward influencing law and policy. Additionally, she is the Associate Director of the Marion B. Brechner First Amendment Project, which is dedicated to current and contemporary issues affecting the First Amendment freedoms of speech, press, thought, assembly and petition. Her research focuses on privacy, online media and communities.
Recently, Jasmine received funding from The John S. and James L. Knight Foundation for a project on new governance framework for data collected by digital platforms, smart devices, and smart city technologies. We asked Jasmine a few questions to learn more.
When it comes to this project, what makes you the most proud?
I think that we've known we need a different way of thinking about data and how it's collected and used for a while now. This project being funded will facilitate more research into how we should be thinking about data, data collection, and how it's used, as well as the disparate impacts on different communities.
What's the best advice you have for a J-School student who wants to do what you do?
Be curious! Read broadly. Do the thing, take the internship, the job, the lab experience, join the club that you find interesting but does not exactly match the usual road you think is necessary to get to where you want to go. Always be learning and be willing to learn, from different people and organizations. Sifting and winnowing is real.
What is your favorite J-School memory?
Truthfully, I used to get lost taking the stairs in Vilas Hall, all the time. But I loved the journalism courses that I took there. Particularly the reporting courses that made you think about the purpose of a journalist. I'm particularly thinking about [J426, Community-Based Reporting]. After so many years, the lessons I learned in that course stick with me and are applicable to so many community-related issues.
Learn more about Jasmine's work:
You can visit Jasmine's website at jasminemcnealy.com or follow her on Twitter @jasminemcnealy.