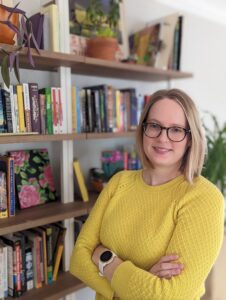 Name: Lydia Statz
Title and Organization: Transportation Planner, Kimley-Horn
Graduation year and degree: 2012 BA in Journalism and International Studies
After working as a reporter for the Daily Jefferson County Union, Lydia Statz pivoted to get her master's in urban planning. She is now a transportation planning consultant at a private firm working with cities, counties and states all over the country. The most recent plan she is working on is Hennepin County, Minnesota's Vehicle Miles Traveled (VMT) Reduction Study. The county adopted a Climate Action Plan in Spring 2021 that included a goal to achieve net zero emissions by 2050. Transportation currently accounts for about 30% of total emissions in the county, meaning reducing emissions related to transportation will be critical to achieving this goal. Some of the reduction will come from increased adoption of electric vehicles, but they still needed to find ways to reduce driving overall. For Hennepin County, this will mean more use of public transit, biking, walking and changing neighborhoods and land use patterns to make it easier to travel short distances without driving.
We caught up with her to hear more about her latest project.
When it comes to your transportation planning work with Hennepin County, what are you most proud of?
I am proud to have the opportunity to positively influence action on climate change. Hennepin County is already a leader in this realm, but it's one thing to talk about the need for action and another to actually achieve it. With this project, my team and I have the opportunity to help the county develop a specific action plan that will identify what needs to be completed in five years, ten years or fifteen years in order to meet our goals. Sustainability is a passion of mine, and is one of the main things that drew me toward transportation. The transportation choices available to you influence every part of our daily life, including where we live, what jobs you have access to, how you access healthcare and education, and your overall health. I'm proud every day to help cities work toward providing more options to bike, walk and use transit rather than relying on driving everywhere.
What's the best advice you have for a J-School student who wants to do what you do?
While I've technically pivoted into a new industry, I still use my J-School training every day. I like to say that 85% of my job is communication. Every day I have to sit down and think about how to tell the story of why we should change the way we build our neighborhoods. I'm constantly asking myself and my colleagues, "Who is the audience?" since the story we're telling might be different if we're communicating with elected officials, the general public or private developers. No matter what you end up doing, I would rest easy in the knowledge that your ability to communicate clearly will be an invaluable skill for almost any job. In the past several years I have put together technical memos, videos, posters, brochures, 100-page reports, presentations, grant applications and everything in between. My first boss in the planning world was also a former journalist, and he used to give me grief every time I turned in something that wasn't AP style.
What is your favorite J-School memory?
So many fond and only-fond-in-retrospect memories. My favorite class was Creative Nonfiction with Deborah Blum, where I spent a whole semester exploring my love for narrative nonfiction writing and learning under a Pulitzer Prize winner. Some of the other memories include long hours in the library trying to perfect my Dreamweaver site (do students still learn that?!) and copyediting late into the night in the Daily Cardinal basement office.