Hands-on learning and great alumni networking opportunities are two hallmarks of the School of Journalism and Mass Communication. Our industry-leading alums have returned to the classroom to teach courses on media, corporate communication and many more. This semester, students in the Sports Communication Certificate program had the opportunity to take Journalism 150: Introduction to Sports Communication taught by J-School alum Arvind Gopalratnam (BA'04).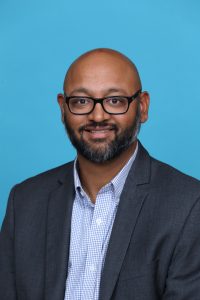 Gopalratnam is the Vice President of Corporate Social Responsibility and Executive Director of Milwaukee Bucks Foundation. A lifelong Wisconsin sports fan from Mequon, he is a proud alum of the J-School and received his master's degree in public relations from George Washington University. As a member of the World Champion Milwaukee Bucks Social Responsibility team, Gopalratnam leads the organization's mission to make the place in which we work and play a better place for all families to live. He is currently in his sixth season with the Bucks after spending 11 years in corporate communications for NBC Universal and General Electric's Healthcare business. Gopalratnam currently serves on the board of directors for the Wisconsin Conservatory of Music, Feeding America Eastern Wisconsin and the Special Olympics of Wisconsin.
"As a J-School alum, it's one of the greatest honors and opportunities to be able to return to campus to inspire current Badgers and hopefully future communicators on the professional world outside Madison," Gopalratnam said.
In Journalism 150, students explore the central activities and concepts related to various communication professions involved in the realm of sports, such as sports journalism, broadcasting, marketing communications and public relations. The class also considers major social issues that impinge upon these professions including how sports and media intersect with concerns associated with race and gender. The course concludes with an exploration of strategies that students can put into place now and in the future to build careers in sports communications and beyond.
"Throughout the semester, students have been introduced to communication careers in sports aligned to my own professional experiences since graduating," Gopalratnam said. "From sports journalism to marketing to PR to Corporate Social Responsibility, students can hopefully see the role and impact of communications in sports is well beyond what we might know while in undergrad. To make it even more valuable it's been really refreshing to involve other professionals in the sports communications field join and speak to students throughout the semester."
Interested in the Sports Communication Certificate? Several of the required courses are being offered during summer term!